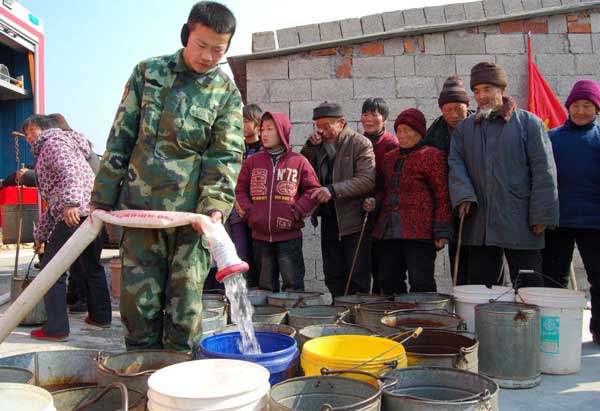 Residents in Hanyu village, in Shandong province's Zaozhuang city, wait for drinking water on Sunday ahead of the Spring Festival, which falls on Feb 3 this year. Zaozhuang has seen no effective rain since September, causing severe water shortages. [Photo/China Daily]
BEIJING - Sunday was the capital city's 84th snow-free day this winter, making it the longest winter period without snow in Beijing since records began 60 years ago.
And there is no sign of snow falling in Beijing in the next 10 days, which means the city is unlikely to enjoy a "white" Chinese New Year, which falls on Feb 3, according to local meteorologists.
Related readings:


 Beijing waiting for winter whiteness


 2.79 m people suffer from drought in China


 Temperatures to rise, drought to continue in N China


 China to launch strict water protection measures


Millions face water shortage in China
However, Beijing residents can expect warmer weather for the start of the Spring Festival with the temperature rising to 7 C during the day, said Sun Jisong, a leading forecaster with Beijing meteorological bureau.
Since 1951, the record for the latest snowfall in Beijing was set in 1984, when it came on Jan 29. The city has now surpassed that record.
Chen Dagang, a senior expert at the climate center of the Beijing meteorological bureau, predicted that Beijing will not see snow until the second half of February, the Beijing News reported on Sunday.
"A whole snow-free winter has never happened in Beijing according to the records we have kept since 1951," he said.
The dry weather has lingered in the capital for more than three months, with no effective rainfall since Oct 25.
"I hate this cold and dry winter," said Jiao Meng, a 26-year-old Beijing resident.
"The air is terribly dry. Whenever I take off my coat, I'm hit by the static electricity and my throat feels sore no matter how much water I drink," Jiao said.
Water shortages have affected 90 percent of farmland in the capital's suburban areas and about 2,250 residents in Fangshan district and Yanqing county, according to the Beijing News.
The city's meteorological, agricultural and forest departments have worked closely to monitor weather conditions and prepare drought-relief supplies in case the dry weather continues, said Wang Yi, an official with Beijing municipal office of flood control and drought relief headquarters.
The parched and windy conditions also increase the risk of fire, especially in the rural areas surrounding the capital, where straw and other inflammable materials are stored.
The fire alert has been set at the highest level, Xia Chunlei, an official with Beijing fire control bureau, told the Beijing Evening News.
The Spring Festival fireworks will mean more challenges rather than a holiday for the capital's 7,000 firemen, Xia said.
Drought hits crops and water supplies
BEIJING - The area of drought-plagued crops across the country has increased to 5.16 million hectares, and is expected to expand as forecasters have predicted the dry spell in North and East China will continue.
About 60 percent of the drought-hit crop areas are in East China's Shandong province and Central China's Henan province, which have seen no effective rainfall for more than 100 days, Minister of Water Resources Chen Lei said on Sunday.
Chen said at a news conference in Beijing that the dry weather has caused shortages of drinking water in areas such as the Inner Mongolia autonomous region, and some northern cities are under increasing pressure to maintain normal water supplies.
The latest figures from the civil affairs department of North China's Hebei province show that about 370,000 residents are facing shortages of drinking water.
In Shandong, 320,000 people are facing similar water shortage problems, according to the provincial flood control and drought relief headquarters.
Across the nation, 2.57 million people are facing difficulty in gaining access to drinking water, according to the Office of State Flood Control and Drought Relief Headquarters.
However, the dry weather in North and East China is expected to go on for at least another week, China Meteorological Administration said on Sunday.
The average temperature in most parts of the country in the next four to 10 days will be 1 C to 3 C higher than usual, it said.
China Daily