JINAN - More than 2.2 million people and 2.7 million livestock are facing a water shortage as the worst drought in decades continues to linger in many parts of China.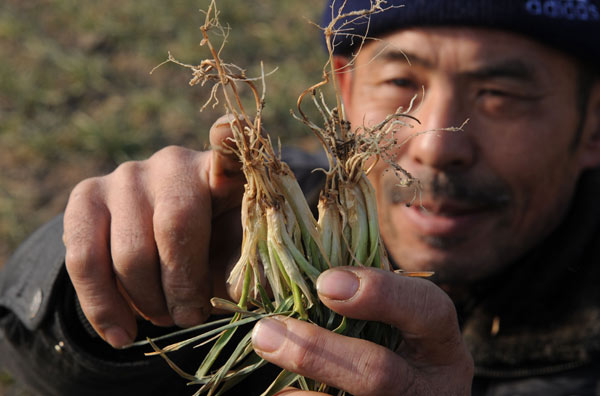 Sun Minghua, a rural resident of Bozhou in East China's Anhui province, checks out withering wheat seedlings on his farm on Thursday. [Photo/China Daily] 
Some wheat-growing regions, including Shandong, Henan, Hebei, Anhui, Shanxi and Jiangsu provinces, have received little rainfall since October.
Related readings:


 Lingering drought may cut water supplies in E China


 Water facilities to grow


 Segment of South-to-North Water Diversion Project begins


 China's water resource investment to hit 2t yuan
More than 4 million hectares of crops across the nation have been plagued by the drought, according to the latest statistics from the Office of State Flood Control and Drought Relief Headquarters.
In Shandong, although some cities had some snowfall on Friday, experts from the provincial meteorological center said the snowfall was too little to help.
Water supplies to nearly 1 million residents will cease if the drought in the province lasts until the end of March, disaster prevention officials have warned.
The drought is the worst in six decades, said Yang Zhendong, director of Shandong provincial flood and drought control office. Little rain has fallen in the province since September, with only 12 millimeters since Sept 23, about 15 percent of the normal level, he added.
Officials said some 3.2 million people across the province have been affected by the drought.
Further, provincial authorities raised the drought disaster level on Thursday to the highest level.
Yang said the drought mostly affected rural residents in mountainous areas. People have to travel longer distances to obtain water. Also, the government has organized work crews to drill wells and send fire engines to deliver water to the affected residents.
Shandong is a key wheat-growing province. About 2 million hectares of land used for growing wheat, or 56 percent of the wheat-planting areas in the province, have been hit by drought.
Other major wheat-producing provinces gripped by scarce rainfall since October include Shanxi, Shandong, Hebei, Henan, Anhui and Jiangsu. These provinces contribute more than 80 percent of the country's total wheat output.
The State Council, or the Cabinet, pledged on Thursday to step up efforts to fight the prolonged drought by allocating an additional 2.2 billion yuan ($330 million) for drought-relief equipment, farm irrigation and drought-fighting supplies.
The central government has allocated 4 billion yuan for grain production and rural water conservation projects, according to a statement issued after a State Council executive meeting.
The central government also plans to spend more than 1 billion yuan to subsidize rural residents in drought-hit regions, the statement said.