TAIPEI - Nora Sun, a former United States trade consul and granddaughter of Sun Yat-sen, the forerunner of the revolution that ended imperial rule in China, died on Saturday afternoon in a Taipei hospital, about one month after being injured in a car accident.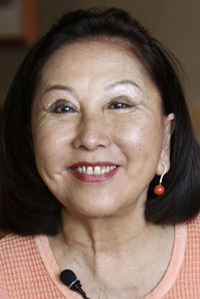 Nora Sun
Sun, 72, was severely injured in a car crash while on her way to an airport near Taipei on Jan 1. She was in a stable condition after several operations, but her condition abruptly became worse on Saturday afternoon, hospital officials said without giving additional details.
Sun came to Taipei to attend the Flora Expo in December. On the way to the Taoyuan International Airport near Taipei, Sun's black sedan, which was being driven by a friend, crashed head-on into an oncoming vehicle, described as a red car.
Related readings:


 Sun Yat-sen's granddaughter in intensive care after serious crash


 Sun Yat-sen's granddaughter injured in car accident

 Sun Yat-sen's calligraphy sells for $75,725
The driver of the car, who was believed to be speeding, died on the spot, according to the police. Sun, her friend, and a passenger in the red car were immediately transported to a hospital. Sun had planned to return to Hong Kong that day.
After the accident, her half sister Lily Sui-fong Sun flew from Hong Kong to visit her in the hospital. Before then, the two hadn't seen each other for 25 years.
Born in Shanghai in 1938, Sun spent her youth in Hong Kong and Taiwan. She was the youngest daughter of Sun Fo, son of Sun Yat-sen, the leader of the 1911 Revolution that overturned the Qing Dynasty (1644-1911), which comprised the last imperial rulers in China.
Sun became the youngest stewardess in Taiwan at the age of 17, before she married an American pilot and World War II veteran in 1957. The couple moved to the US in 1962.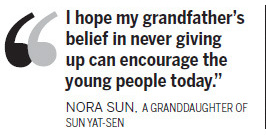 Together with one of her sons, the mother of three was enrolled in the University of Arizona and Babson College, Massachusetts, in her late thirties. After graduation, she began a career in the late 1980s in the US diplomatic service, acting as a US trade consul at different times in Guangzhou, the capital of South China's Guangdong province, in Shanghai and in Paris.
When she visited the Sun Yat-sen Exhibition Hall in Shanghai in 2006, she said she felt grateful to be the granddaughter of Sun, who not only brought honor to her, but to the entire Chinese people. "I hope my grandfather's belief in never giving up can encourage the young people today," she said.
Sun quit her diplomatic career in 1994 and split her time among Shanghai, Hong Kong and the US. She started her own trade company in Hong Kong, helping the US and European companies invest in China.
China Daily - Xinhua