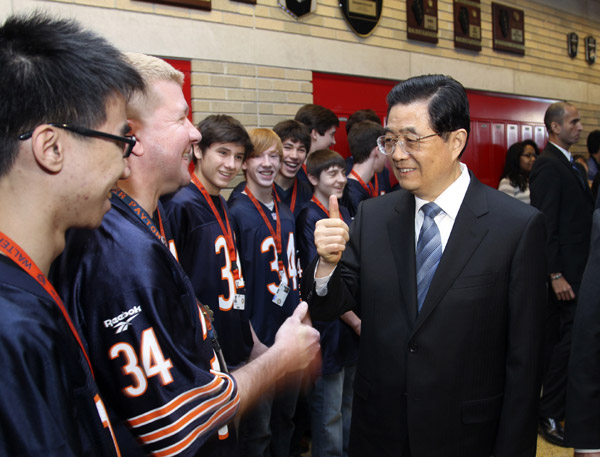 Chinese President Hu Jintao (C) talks to students at the Walter Payton College Preparatory High School in Chicago during the final day of his US visit, January 21, 2011. [Photo/Xinhua] 
BEIJING - Chinese President Hu Jintao's latest state visit to the United States bore rich fruit and opened a new chapter of cooperation between the two countries, Foreign Minister Yang Jiechi said Saturday.
The tour, from Tuesday through Friday, came at the beginning of the second decade of the 21st century, on the 40th anniversary of the resumption of contact between the two countries and on the opening year of China's 12th Five-Year Plan for national socioeconomic development, Yang noted.
Meanwhile, the international situation was witnessing deep and complicated changes, and the China-US relationship was forging ahead with increasing momentum while inevitably encountering some differences and disputes, he said.
Special Coverage:
Special: President Hu visits US
Related readings:


 President Hu returns to Beijing after state visit to US


 Hu's visit sketches blueprint for China-US ties


 Chinese bloggers blast away in chat with officials


 President Hu visits exhibition of US Midwest firms
Against such a backdrop, the Chinese president held frank and in-depth talks with his US counterpart, Barack Obama, and many other senior political figures, and reached important consensus on bilateral relations and a host of major regional and global affairs, Yang said.
During the tightly scheduled trip, which saw Hu attend nearly 20 events in Washington and Chicago within 68 hours, the Chinese leader also reached out to the US public, conveying China's resolution to advance China-US ties, highlighting China's commitment to peaceful development and presenting China's image of peace, development, opening-up and progress, Yang said.
The US and international media, he added, attached great importance to and spoke highly of Hu's trip, hailing it as a historic visit at a crucial moment and whose significance was manifested partly in the top level reception with full pomp and ceremony given by the US government.
In summary, the latest step in China-US diplomacy achieved rich results and cast a far-reaching influence not only upon the two countries themselves but upon the whole world, the Chinese foreign minister said.
Charting future course of China-US relations
Since China and the United States established formal diplomatic relations 32 years ago, the China-US relationship had maintained sound development overall thanks to concerted efforts by both sides, Yang said.
The two sides had harvested rich fruit from their extensive cooperation, retained effective communication and coordination on major regional and global issues, brought tangible benefits to the two peoples, and made great contributions to the peace, stability and prosperity of the Asia-Pacific region and beyond, he said.
In the new era, China and the United States shared expanding common interests, shouldered increasing common responsibilities, and enjoyed a greater prospect of bilateral cooperation, the minister said.
In his talks with Obama, Hu stressed that, as heavyweight players on the world stage, China and the United States should push forward their positive, cooperative and comprehensive relationship through new approaches, new moves and new spirits.
In a five-point proposal, the Chinese president underscored the need to develop a political relationship that featured equality, mutual trust and the precept of seeking common ground while reserving differences, to deepen their comprehensive, cooperative, mutually beneficial and win-win economic ties, to cooperate in meeting global challenges, to promote friendly exchanges between the two peoples and to establish a pattern of high-level contact based on in-depth communication and candid dialogue.
China, Hu said, was ready to work together with the United States to build on past progress, properly handle sensitive issues, jointly secure a sustained, healthy and steady development of bilateral ties and create a new landscape of their cooperation.
Stressing that Hu's visit injected new impetus into the growth of bilateral relations, Obama fully agreed to Hu's proposal, adding that the United States cherished its relationship with China and was willing to step up high-level contact, beef up strategic mutual trust and crank up cooperation on major regional and global affairs on the basis on mutual respect and common interests.
During the visit, the two heads of state mapped out the future course for their countries to enhance bilateral ties and cooperation, and the two sides declared in a joint communique their commitment to building a cooperative partnership based on mutual respect and mutual benefit.
The announcement, Yang said, would guide the two sides to further consolidate their ties, expand their win-win cooperation, bring more benefits to their nations and make more contributions to world peace, stability and prosperity.
Boosting strategic mutual trust
How to boost strategic mutual trust between Beijing and Washington was now a major concern in the China-US relationship and would remain so in the near future, the Chinese foreign minister said.
As Hu noted, China and the United States, respectively as the largest developing and developed country, have increasing common interests and common responsibilities, but due to variant cultures, social systems and development levels, visible differences remain on certain issues.
The two sides should try to expand common ground, upgrade coordination, deepen strategic mutual trust and properly address their differences, Hu said, stressing that both sides would benefit from cooperation and suffer from confrontation.
Beijing and Washington, he added, should hold on tight to the main theme of dialogue and cooperation, protect their relations from negative influence by accidental and sporadic events and steer the relationship through disturbances and challenges toward a better future.
While expressing full agreement to Hu's call for stronger strategic mutual trust, Obama lauded the remarkable achievements China had made in the past decades, and emphasized that China's peaceful development benefited the whole world, including the United States.
The United States, he added, welcomed a powerful, prosperous and successful China with a bigger role in international affairs, and was willing to seek solutions to outstanding issues through dialogue and cooperate with China to deal with multilateral issues in the 21st century.
The joint communique, wherein the United States reaffirmed its commitment to the one-China principle, reflected the aspiration of both sides to improve mutual understanding and reinforce mutual trust, and outlined a package of exchange measures that would surely help shore up the strategic mutual trust between the two sides, Yang said.
Making new progress in China-US trade cooperation
Yang said the China-US cooperative partnership could not be built up without the strong support of mutually beneficial economic cooperation.
Since the two countries forged diplomatic ties in 1979, bilateral trade and investment cooperation has developed very fast. Currently, China is the second biggest trade partner of the United States, and vice versa.
Yang said the shock of the global financial crisis still lingered and the world economic recovery still faced twists and turns, adding the two countries should make more efforts to contribute to full recovery of the world economy and the two economies by expanding and deepening trade cooperation.
Facing this situation, Hu said during his visit that China and the United States should continue coordination on their macro-economic policies, seek and expand mutually beneficial cooperation, and send a positive and strong message to the world market.
China was ready to work with the US side to carry out comprehensive economic cooperation, jointly ease trade imbalances, advocate free trade, oppose protectionism, boost the development of bilateral trade and economic ties, and push the Doha Round of global trade talks to achieve substantial results as soon as possible.
Hu urged the US side to relax its restrictions on high-tech exports to China, offer an environment of fair competition to Chinese enterprises investing in the United States, and adopt active measures to recognize China's full market economy status.
Obama, for his part, expressed his appreciation toward the significant progress in bilateral economic and trade cooperation, saying a robust economic and trade relationship between the two countries benefited both peoples.
He said the US side was willing to address China's important concerns in trade and economy, and make positive headway in this aspect.
The two countries agreed to establish a comprehensively and mutually beneficial economic partnership, strengthen exchanges and cooperation in various fields, and boost a strong, sustainable and balanced rise of the two economies and the world economy.
The two sides inked more than 10 agreements, memoranda of understanding and letters of intent. Companies from the two countries also yielded rich cooperative fruits, which covered trade, investment, technology, people-to-people and cultural exchanges, energy, environment, high-speed rail, and smart grids.
Boosting people-to-people exchanges, understanding
Yang said people-to-people exchanges were the important foundation and momentum for the development of ties between different countries, adding sound China-US relations could not be guaranteed without the two peoples' mutual understanding and support.
During his trip, Hu emphasized the Chinese and US peoples cherished great interests and friendly feelings toward each other, adding boosting people-to-people exchanges, especially youth-to-youth exchanges, was of key importance to the development of bilateral ties.
President Hu interacted widely with Americans from various circles.
He attended a welcome luncheon held by US friendly organizations and delivered an important speech, which was warmly applauded by the audience.
He explained China's policies of further developing China-US ties, and reiterated China would stick to the road of peaceful development.
Hu also paid a visit to Chicago, where he was warmly welcomed by the government and citizens. Mayor Richard Daley and his whole family greeted Hu at the airport.
Hu, accompanied by local officials, visited Walter Payton College Preparatory High School in downtown Chicago, and conducted face-to-face exchanges with US youth.
The high school has established the only Confucius Institute in the United States that is housed in a K-12 environment and which primarily focuses on the Chinese language and cultural education programs.
During Hu's visit, both countries agreed to take concrete steps to enhance people-to-people exchanges.
The two sides announced the launch of a China-US Governors Forum and decided to further support exchanges and cooperation at local levels in a variety of fields, including support for the expansion of the province and city relationships.
They also agreed to take concrete steps to strengthen dialogue and exchanges between their young people, particularly through the 100,000 Strong Initiative.
The two sides agreed to discuss ways of expanding cultural interaction, including exploring a China-US cultural year event and other activities.
They also underscored their commitment to further promoting and facilitating increased tourism.
Strengthening communication, coordination on major global issues
Yang said that, in the second decade of the 21st century, the international situation continued to experience profound and complex changes, while there were more and more global challenges.
He said China-US cooperation was of great significance to the two countries and the world at large.
Both sides should jointly deal with the global financial crisis, push forward the international financial system's reform, wield positive impacts in the world arena, and keep effective communication and coordination on major regional and global issues, he said.
During his visit, President Hu exchanged views with the US side on the world economy, the situation on the Korean Peninsula, the Iranian nuclear issue, the Sudanese situation, climate change and other major international and regional issues.
He said China and the United States should strengthen consultation and coordination on major issues concerning peace and stability in the Asia-Pacific region and the world, effectively cope with global challenges, and create a better future for the world.
US leaders agreed with President Hu's views, saying they would like to make joint efforts with China to strengthen cooperation in handling global issues and solve multilateral problems in the 21st century.
Both countries agreed to strengthen coordination and cooperation, continue to devote themselves to promoting peace, stability and prosperity in the Asia-Pacific region, boost open and inclusive regional cooperation, and move forward sustainable development in different countries.
The China-US Joint Statement issued during Hu's visit fully reflected the two countries' willingness to play a constructive and responsible role in the world.
Facing the challenges regarding world peace, international security, global development and others, China and the United States have become indispensable players in solving major international and regional issues.
The statement clearly and fully reflected this important trend, and displayed the two countries' important consensus on the Korean Peninsula's current situation, the Iranian nuclear issue, climate change and nuclear non-proliferation.
The consensus sent a positive message that China and the United States are making efforts to maintain regional and world peace and stability.
Yang said Hu's visit charted the course for development of China-US ties in the future, boosted China-US strategic mutual trust, promoted bilateral pragmatic cooperation in various fields, expanded bilateral humanistic exchanges, strengthened bilateral local-level governmental cooperation and increased bilateral communication and coordination on major international and regional affairs.
He also said the visit realized the goal of boosting mutual trust, strengthening friendship, deepening cooperation, and building the China-US cooperative partnership based on mutual respect and mutual benefit.
It surely would further move forward the positive, cooperative and comprehensive China-US relationship, and open a new chapter for bilateral cooperation of partners, the foreign minister said.