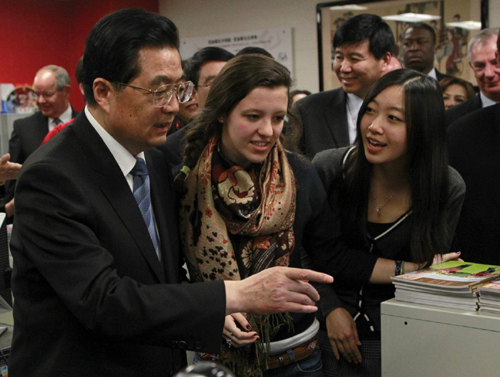 President Hu Jintao (L) visits the Walter Payton College Preparatory High School, which houses a Confucius Institute, in Chicago, during the final day of his US visit, Jan 21, 2011. [Photo/Agencies]
Chinese president suggests route to take "sound and steady" links with the US forward
WASHINGTON/CHICAGO - President Hu Jintao reaffirmed on Thursday in the United States that China will continue to deepen its reform and opening-up and adhere to peaceful development while he also urged Washington to be mindful of Beijing's "core interests" in Taiwan and Tibet.
Before leaving for Chicago on the final stop in his four-day state visit to the US, Hu delivered a speech at a luncheon in Washington where he explained China's approach to maintaining a cooperative partnership with the US.
Related readings:


 Hu sees broader basis for Sino-US co-op


 Hu's visit shifts direction in ties


 Highlights of Hu's activities in US


 Hu confident in bilateral relations


 Hu initiates proposal to advance Sino-US ties
About 500 US business and political leaders attended the event that was hosted by the US-China Business Council and the National Committee on US-China Relations, along with several cooperating organizations.
The two countries issued a 41-item joint statement on Wednesday laying out the foundations for future China-US relations that emphasized their common interests and recognized differences.
During his speech, Hu identified the broad common interests and responsibilities that are the basis of China-US relations and proposed several steps to take the "sound and steady" relationship into a new decade.
He said both nations are committed to upholding world peace and stability and reforming the international system as well as developing the Asia-Pacific region and building stronger bilateral ties in all fields to benefit the people of both countries.
In addition to expanding strategic and economic cooperation, the Chinese president urged the US to treat China with respect and as an equal and to handle major and sensitive issues in an appropriate manner.
"Taiwan- and Tibet-related questions concern China's sovereignty and territorial integrity and they represent China's core interests," he said.
"They touch upon the national sentiment of 1.3 billion Chinese people. We hope that the US will honor its commitments and work with us to preserve the hard-won progress of our relations."
The Ministry of Foreign Affairs said Beijing firmly opposes leaders or government officials from any country meeting with the Dalai Lama in any form, and also firmly opposes any country using the Dalai Lama issue to interfere in Tibet-related issues, which are China's internal affairs.
US President Barack Obama met the Dalai Lama in Washington in February, despite China's strong opposition, an event that worsened bilateral relations that were already disturbed by an earlier US arms sale to Taiwan.
Beijing broke off military ties with the US after the arms sales and the military-to-military relationship did not start to warm back up until the end of last year.
At the end of his speech, Hu assured his US hosts that China - still a developing country - will continue to "deepen reform and opening-up, advance economic, political, cultural and social restructuring in an all-round way, and improve the socialist market economy."
To address growing concerns about China's military modernization, Hu reaffirmed that China will remain committed to peaceful development and strive for a peaceful international environment.
"We do not engage in the arms race or pose a military threat to any country," he said. "China will never seek hegemony or pursue an expansionist policy."
Before the luncheon, Hu held talks with House of Representatives Speaker John Boehner and Senate Majority leader Harry Reid, during which he called upon Congress to continue helping the countries boost their relations.
While addressing a gathering of business leaders at a welcome banquet in Chicago held by Mayor Richard M. Daley, Hu said Chicago had played an important role in advancing trade and cultural ties with China.
And he pledged to further elevate bilateral trade and cultural ties, and called for fair treatment from the US on such issues as Washington's control of high-tech exports to China. He also called for a level playing field for Chinese companies wanting to invest in the US.
Several hundred Chinese Americans gathered on the streets in Chicago to welcome the Chinese leader.
In eager anticipation of what they expect will be new economic opportunities thanks to closer links between China and Chicago, local Chinese American leaders had been posting welcome signs throughout the city's Chinatown.
Daley said the city's long-range goal is to make Chicago the most "China-friendly" city in the United States and establish it as China's "Gateway to America".
Hong Liu, president of the Chinese American Association of Greater Chicago, told the Chicago Tribune that local "residents should be honored that Chicago is the only city outside Washington DC that he selected to visit".
Analysts said Hu's visit to the US was a success.
Sun Zhe, director of the Center for US-China Relations at Tsinghua University, said the win-win partnership in business highlighted during the visit was a major improvement on talk of "economic cooperation and helping with the global revival" stressed in 2009 when Obama visited Beijing.
He said, in the post-crisis era, the partnership will help ensure comprehensive business cooperation between the world's top two economies.
Fan Jishe, an expert on US studies at the Chinese Academy of Social Sciences, was interested in why Hu decided to visit Chicago instead of cities with large Chinese American populations such as Los Angeles and San Francisco, or financial centers such as New York.
"I think Beijing wants to convey the message that the economic surge of China is not a burden but a benefit for the US," he said.
Former US secretary of state Henry Kissinger said on Wednesday: "They can call this summit a success, not because it has solved every problem but because it has sought the way by which the problems can and will be solved."
Nicholas Berry, director of Foreign Policy Forum, told China Daily the US treated China as a partner.
"The state visit is staged as a celebration of China's rise - a message from Obama to both the American people and the Chinese that the United States does not consider China a 'strategic competitor', that is, a military threat. Instead, China is now a major power that the US will treat as such."
John Frisbie, US-China Business Council president, said: "Most simply, the visit by President Hu is a reminder of the importance of the relationship - seen by many as the most important bilateral relationship for both sides in the 21st century.
"This is a relationship in transition, and this visit is an important part of navigating that transition."
Kelly Chung Dawson in New York and Li Xiaokun in Beijing contributed to this story.