NEW DELHI - Chinese Premier Wen Jiabao said here Wednesday that the relationship between China and India not only benefits the two peoples, but also is of great significance to peace and development in Asia and the world as a whole.
Speaking during an evening banquet hosted in his honor by Indian Prime Minister Manmohan Singh, Wen said that recent years had witnessed enriched contents of the Sino-Indian relations, whose influence is on the rise.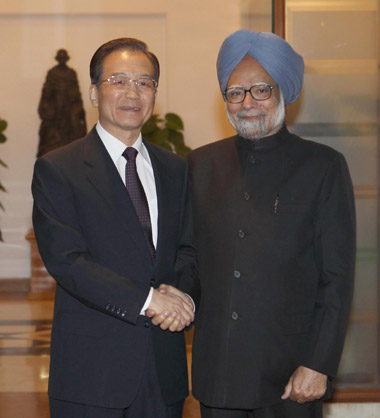 Chinese Premier Wen Jiabao shakes hands with Indian Prime Minister Manmohan Singh during his official visit to India, in New Delhi, Dec 15, 2010. [Photo/Xinhua]
He noted that the year 2010 marked the 60th anniversary of the establishment of diplomatic ties between China and India.
He expressed the hope that his visit would promote mutual trust and push for greater development in bilateral cooperation and exchanges in various areas, raising the Sino-Indian strategic and cooperative partnership to a new level.
Related readings:


 China, India cooperative partners, not rivals


 Major events in development of China-India ties


 Wen: World big enough for China, India growth


 Chinese premier arrives in India for visit


 India eyes win-win relationship with China
Singh extended his warm welcome to Premier Wen, who is on his second official visit to India following his trip in 2005.
Singh said India attaches great importance to relations with China and cherishes friendship with the Chinese people.
He expressed the belief that through concerted efforts by both sides, the visit by Premier Wen would become a new milestone in the history of the development of bilateral ties.
Both leaders also had an extensive exchange of views on major issues of common concern.
Earlier Wednesday, Wen delivered a speech at a bilateral business cooperation forum that attracted about 600 elite business leaders from both countries, calling for further promotion of bilateral cooperation and trade links between the two sides.
Wen arrived here on Wednesday for a three-day visit at the invitation of Singh. He was scheduled for talks with Singh on Thursday morning on bilateral ties and international and regional issues of common concern.
The Chinese premier will also attend events marking the 60th anniversary of the establishment of China-India diplomatic ties, and meet with Indian people from various circles, before concluding his tour on Friday.
Wen will go to Pakistan after his stay in India.