NEW DELHI - Chinese Premier Wen Jiabao on Wednesday called for further promotion of bilateral cooperation and trade links with India.
Wen, who arrived here in India's capital city earlier Wednesday for a three-day official visit at the invitation of his Indian counterpart Manmohan Singh, stressed that China and India are cooperative partners instead of rivals.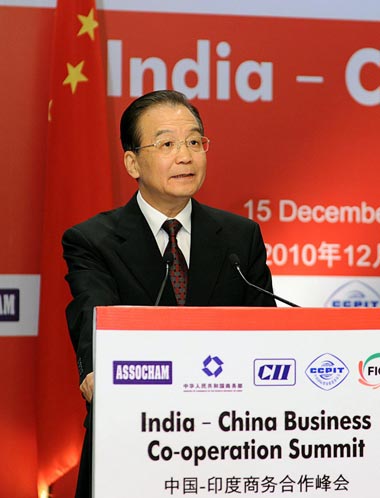 Chinese Premier Wen Jiabao speaks during the India-China Business Co-operation Summit in New Delhi, Dec 15, 2010. [Photo/Xinhua]
"There is enough room in the world for China and India to develop both countries and cooperate with each other," Wen said during a speech before a bilateral business cooperation forum that attracted about 600 business elites from both countries.
Hailing the sound momentum of bilateral ties, Wen said that economic and trade cooperation between China and India has witnessed unprecedented progress in recent years. He said the cooperation has entered a most vigorous and fruitful "new period."
"The rapid economic growth of both sides served as important engines for world economic growth," Wen said, adding China-India trade cooperation is mutually beneficial and foresees a bright future.
In 2009, two-way trade between China and India reached $43.381 billion.
Related readings:


 China, India cooperative partners, not rivals


 Major events in development of China-India ties


 Wen: World big enough for China, India growth


 Chinese premier arrives in India for visit


 India eyes win-win relationship with China
"Our trade volume has increased by 20 times in the past ten years, and our mutual investment has brought rich benefits to both sides," Wen said.
Regarding India as one of China's largest overseas engineering contract markets, Wen said the two countries enjoy broad market space, and should open markets for each other to give a strong boost to economic growth.
Wen said the two countries have wide-ranging common interests in the global economic and trade system, and share the same or similar stances on many major economic and trade issues.
He said that the two nations should learn from each other in their respective reform and opening-up processes, enhance communications and coordination and safeguard their common interests.
Calling his ongoing visit to India a journey of friendship and cooperation, Wen said China is willing to cooperate with New Delhi to expand the scale and range of their economic and trade cooperation, and bring it to a higher level.
He said both sides need to further tap the potential to substantially increase their trade volume, and promote trade development in a balanced manner and jointly fight protectionism.
The premier called for efforts by both sides to create a favorable environment for mutual investment, implement the pact for investment promotion and protection, ease the restrictions on authorization, on capital and personnel flows, and explore the possibility of setting up international economic and trade cooperation zones in each other's country to promote bilateral trade and investment.
China and India should also expand cooperation in such areas as finance, tourism, energy and environmental protection, and strength exchanges in science and technology, education, culture and healthcare, Wen said.
He added that the two countries should also promote mutual understanding and friendship between their peoples.
The Chinese leader, in addition, called for more exchanges between the two countries' business circles and the establishment of more platforms for such interactions.
He also suggested that the two nations' chambers of commerce and business associations serve as a bridge to help enterprises in both countries know more about and explore each other's markets.
The 21st century is the century of Asia, in which both China and India can achieve a lot, Wen said.
He called on the business communities of both countries to actively participate in bilateral economic and trade cooperation to contribute to the great rejuvenation of the two ancient civilizations.
Wen's visit is the first to India by a Chinese premier in four years. It follows Indian President Pratibha Patil's visit to China in May -- the first by an Indian head of state in a decade.
Wen was scheduled for talks with Singh on Thursday morning on bilateral ties and international and regional issues of common concern.
He will also attend events marking the 60th anniversary of China-India diplomatic ties, and meet with Indian people from various circles before concluding his tour on Friday.
India is the first leg of Wen's current two-nation trip, which will also take him to Pakistan.