2,670 officials above county level probed

By Wang Jingqiong (China Daily)
Updated: 2010-03-12 07:16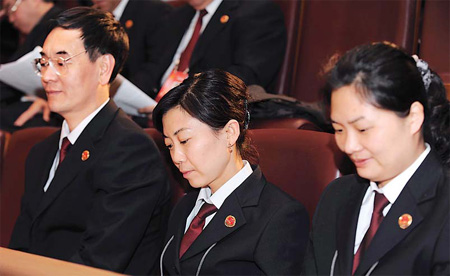 Prosecutor deputies attend the National People's Congress on Thursday.[Yang Zongyou/Xinhua]
BEIJING: A total of 2,670 officials above county level last year, including eight at the provincial or ministerial level, were in the center of corruption investigations last year, the country's top prosecutor said on Thursday.
Prosecutor-General Cao Jianming told nearly 3,000 lawmakers at the annual session that prosecutors investigated about 41,000 officials - down 3.3 percent - in more than 32,000 cases - up 0.9 percent - for embezzlement, bribery, dereliction of duty and other work-related crimes last year.
The eight high-ranking officials include Huang Songyou, former vice-president of the Supreme People's Court and Wang Yi, former vice-president of the State-run China Development Bank.
Also on the list are Chen Shaoji, former top political advisor of southern Guangdong province, and Wang Huayuan, a former provincial official in eastern Zhejiang province.
Among the probed, more than 18,000 cases were "extremely serious", while 3,100 were grave cases in connection to dereliction of duty or infringement of people's rights, according to the work report of the Supreme People's Procuratorate (SPP).
More than 9,300 government workers were implicated in cases of dereliction of duty, malfeasance and infringement of people's rights, Cao said.
Nearly 3,200 bribers were punished "in an effort to strengthen crackdown on such crimes", he said.
Cao said the authorities seized more than 1,100 on-the-run suspects involved in work-related crimes, with more than 7.1 billion yuan ($1.04 billion) recovered.
About 4,000 corrupt officials have fled to Canada, the United States, Australia and other countries with over $50 billion of public money in the last three decades, according to statistics of the Ministry of Commerce.
To weed out judicial corruption, prosecutors investigated 2,670 judiciary workers suspected of graft and malpractice for personal gains, Cao said.
"I'm getting less optimistic about the anti-corruption drive in China considering the rise in the number of cases. I don't see any slow down in the general tendency towards corruption," Ren Jianmin, an anti-corruption expert at Tsinghua University, said.
Ren said although the central government paid a lot attention and spent a lot of money on the fight against corruption, most measures are turning out to be futile.
"A lot of measures are just aimed at showing off what has been done and very few people care about the results", Ren told China Daily.
"Besides, the supervision staff, including prosecutors, are not independent enough. Their power is very limited as they are intertwined with those they are supposed to supervise."
Cao also emphasized that the SPP will actively step up efforts in preventing duty dereliction crimes this year to enhance punishment and prevent corruption.
"We will pay special attention to corruption and bribery, dereliction of duty, commercial bribery, and crimes out of severe accidents," Cao said.
"Also cases related to construction, housing development and natural resource exploitation will be the highlights of our work this year. We will also keep an eye on those who protect mafia-style gangsters."
Xinhua contributed to the story