'Tibet's development on course'

By CUI JIA (China Daily)
Updated: 2010-03-11 07:41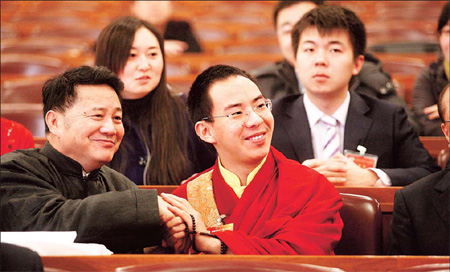 The 11th Panchen Lama, Bainqen Erdini Qoigyijabu (center), talks with members of the third session of the 11th CPPCC National Committee in Beijing on Wednesday. [Yang Shizhong/China Daily]
Measures helped restore economic, social order, says Lhasa mayor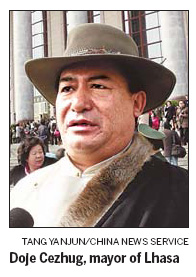 Beijing: Although the negative impact and the shadow of the March 14, 2008 riot in Lhasa, capital of Tibet autonomous region, will always remain, it won't affect the region's development, the mayor of Lhasa told China Daily in an exclusive interview on Wednesday.
"We are prepared to face more disturbance and sabotage from the Dalai Lama clique but we won't let them disrupt the region's development," said Doje Cezhug, mayor of Lhasa.
On March 14, 2008, under the planning and guidance of the Dalai Lama clique, a group of rioters looted and burned areas in Lhasa. The riots left at least 19 people dead and denied the autonomous region a good chance of development that year, he said.
The riots ripped the peace and tranquility of Lhasa and threw the ancient scenic city into chaos and turbulence, causing enormous losses to innocent people and their property, the mayor said. The smooth momentum of regional development has also been seriously affected, the mayor added.
"The March 14 riot exposed some problems and they have now all been solved," Doje Cezhug said.
The city has taken a series of measures during the two years since the riot to restore normal economic and social order, including reinforcing the management on floating population and communities. They have been proven to be effective, he said.
"Our focus at the moment is economic development and improving people's living standard and nobody can stop us," he said.
On Tuesday, the Dalai Lama showed his support to the East Turkistan Islamic Movement, a world recognized terrorist group that seeks to separate Xinjiang Uygur autonomous region from China.
"It is unbelievable for Dalai Lama, who is a so-called Living Buddha, to support a terrorist group," said Doje Cezhug. "He is just using Xinjiang and Tibet as platforms to achieve his goal to separate China."
Dalai Lama claims that Chinese officials are placing monks and nuns in prison-like conditions and are depriving them of the chance to study and practice in peace.
People in Tibet have always enjoyed the freedom of religion; it has never been disrupted, the mayor said. "People still carried on their religious activities as normal the day after the riot, not to mention the situation now. Some 5.5 million people visited Tibet last year and I don't think they will have a conclusion like that," he said.
"In Tibet, people can believe whatever they want as long as it is legal. The government won't interfere. Instead it will help people solve problems along the way," said Jigme Namgyal, the vice-mayor of Lhasa.
"Let Dalai Lama say whatever he wants. We will just carry on what we do," said Padma Choling, governor of Tibet, on Wednesday, adding he didn't want to comment further on Dalai Lama's latest remarks.