Toronto - President Hu Jintao on Saturday accepted an invitation from US President Barack Obama for a state visit, as the two world powers are trying to ease disputes over economic and political issues.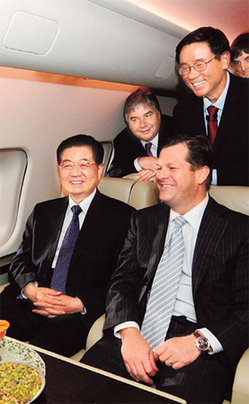 President Hu Jintao and Pierre Beaudoin, president and chief executive offi cer of Bombardier Inc, talk on Saturday during a visit to the aircraft manufacturer in Toronto. [Xinhua] 
Although many media commentators declared the visit to be only the third hosted by Obama since he took office in January 2009, a senior Chinese expert on US studies said the state visit is unlikely to happen in the near future and will most likely be scheduled for late this year.
Obama made the invitation as the two met on Saturday afternoon in Toronto prior to the opening of the G20 summit. The date of the visit has not been set, White House adviser Jeffrey Bader told reporters.
The meeting between Hu and Obama during the Washington Nuclear Summit in April put the bilateral ties partly back on track. Yet disputes, including those on Chinese currency and trade frictions, still exist.
China announced an enhancement of the renminbi exchange rate flexibility last week, which ended a fixed peg to the US dollar since July 2008. The issue has been an irritant in China-US relationship for a long time.
Obama told Hu he welcomes China's move toward greater currency flexibility and noted that Beijing's "implementation of it was very important", Bader said.
Actually the exchange rate has been only one of the problems hampering Beijing's ties with Washington this year.
The ties became strained at the beginning of this year after the Obama administration's announcement that the US would carry out a $6.4 billion arms sale package to Taiwan. Obama's meeting with the Dalai Lama, as well as harsh US criticism on China's Internet censorship, further angered Beijing.
Hu extended a friendly signal to Obama on Saturday.
Related readings:


 Hu: China, US need to stay the same course


 Hu accepts Obama invitation to state visit


 Hu visits Bombardier plane maker


 President Hu attends G20 Toronto summit

"I'm happy to note that, thanks to the recent joint efforts on both sides, real progress has been made in this relationship," Hu, speaking through a translator, told reporters at the meeting.
"We need to continue to follow the spirit of staying on the same course and uniting together," he said, adding that China wants to strengthen coordination with the US on major regional and international issues.
Obama said the US welcomes a successful and prosperous China. The two world leaders were also reported to have "exchanged ideas on the situation on the Korean Peninsula and the Iran nuclear issue".
Obama has put a priority on mending fences with China, which his administration sees as important given Beijing's increasing economic clout and Washington's desire for its cooperation on foreign policy issues, such as Iran and the Democratic People's Republic of Korea.
Fan Jishe, a scholar of US studies at the Chinese Academy of Social Sciences, said that, with the frequent meetings between Hu and Obama this year, Hu's scheduled state visit is unlikely to come in the near future.
"When President Hu was talking about progress in bilateral relations, he was referring to the relatively stable situation now compared with the chaos earlier this year," he said.
"Since there are no urgent issues to solve now, the visit will come later, such as in November, and will bear more symbolic than tangible significance," he added.