Toronto: United States President Barack Obama officially extended his invitation to Chinese President Hu Jintao for a state visit to the US, an invitation that Hu accepted.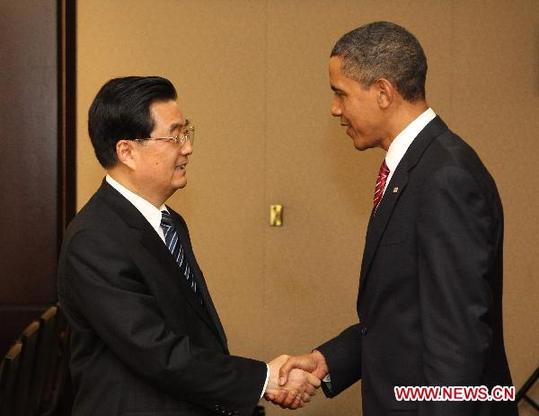 Chinese President Hu Jintao (L) meets with U.S. President Barack Obama in Toronto, Canada, June 26, 2010. [Photo/Xinhua]
Obama made the invitation as the two met Saturday afternoon in Toronto prior to the opening of the G20 summit, according to a press release by the Chinese foreign ministry after the meeting.
It will be the third state dinner of Obama's presidency, following ones for India and Mexico.
Special coverage:
Hu Visits Canada, Attends G20 Summit
Related readings:


 Hu calls for promotion of Sino-Canada strategic ties


 Chinese, Indonesian leaders meet on G20 sidelines


 Canadian PM says G8 won't be replaced by G20

 Protest staged in Toronto on G20 summit eve


 China draws world's attention ahead of G20 summit


 Consensus key to G20


 President Hu meets with Canada's leaders in Ottawa
According to the press release, Hu also said that China appreciates the stance US made in continuing to support "One China" policy, and fully respecting the sovereignty and territorial integrity of China.
Hu told Obama that the bilateral relation has recently made real progress thanks to joint effort made by both sides.
Yet "as the global and regional affairs are undergoing complicated and profound changes, China and the US face common challenges as to accelerate the further recovery of world economy and jointly handle the regional hotspots and global issues," said Hu.
The two countries "need to carry out together the spirit of staying the same course and cooperate for win-win situation," Hu said.
Hu said that China has no intention of pursue trade surplus against the United States, and will certainly adopt effective measures to expand its import from the US.
Yet Hu also urged the US side to firmly resist its tendency of trade protectionism, and gradually ease its export control on high-tech products to China in order to maintain a balanced bilateral trade.
Hu said that China is willing to keep exchanges with the US side on various levels, and deepen solid cooperation in every sector, strengthen the communication and coordination on major world and regional issues, and to push forward the bilateral relations to develop in a positive, cooperative and all-around track.
Hu also said that China is willing to work together with other countries to push for concrete results of the G20 meetings.
Obama was quoted by the press release as saying that US welcome a successful and prosperous China.
"The cooperation between China and the US has huge potential, and both sides should cooperate in a constructive way," said Obama.
Obama also pledged to oppose trade protectionism, and urged both sides to implement the decisions made on the freshly-concluded Strategic and Economic Dialogue last month.
It is the second meeting between Hu and Obama since bilateral ties between China and US got strained at the beginning of the year.
In February, the Obama administration passed a $6.4 billion arms sale package to Taiwan and Obama met with Dalai Lama, who China labeled as a separatist, further agonizing China.
The meeting between Hu and Obama during the Washington Nuclear Summit in April has put the bilateral ties partly in track. Yet disputes including that on Chinese currency and trade frictions still perils.