BEIJING - Wu Ying is determined to have a fancy Christmas in the southern city of Shenzhen this year, including a home-baked Christmas cake with ingredients imported from the United States.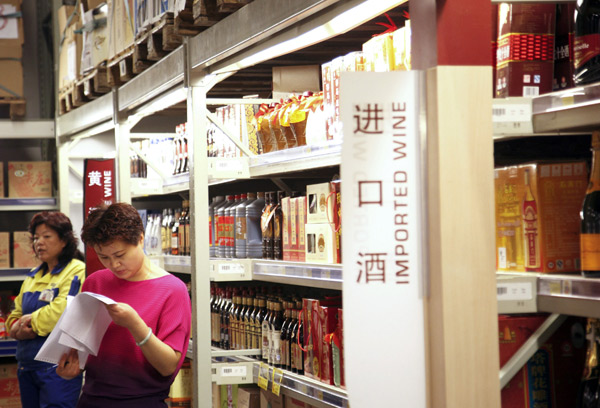 Staff members work in the imported wine department at a Metro AG supermarket in Shanghai. Shopping website Ourtasty.com said Belgian chocolates and French wines are its top sellers over Christmas. [Photo/Agencies]
It has been a year since Wu graduated from Purdue University, so she plans to reinforce her memory about the "cheerful and romantic" time by baking a genuine American cake.
Wu, 25, is not the only person eager to pursue a Western lifestyle -- or rather, food -- in China.
Related readings:


 Imported food market grows


 Sales of imported luxury cars storming ahead


 China imported more than 55% of oil needs in H1


 China's import drive to be launched
Ourtasty.com, the largest shopping website for imported food in China, has seen a 30 percent increase in orders since early December.
Grace Guo, chief operating officer with the Shanghai-based company, said Belgium chocolates and French wines are its top sellers over Christmas.
The company is not only eyeing the booming Christmas market, but also the huge demand for imported food in China.
"Imported food is getting more and more popular in China, with or without Christmas," she said.
Guo said more young Chinese are willing to try exotic foods, as some have concerns about China's food safety record.
When the company began in December 2008, it could get only a dozen orders a day. "But the number of our daily orders has reached 1,000 and our daily turnover is about 250,000 yuan ($37,000)," Guo said.
The company sells about 3,000 kinds of imported foods, with 60 percent from the US. Compared with its European counterparts, food from the US can be relatively cheap.
Among its top sellers are nuts such as pistachio and sauces from the US, cookies and pasta from Europe and milk powder from New Zealand.
"We plan to bring another 7,000 kinds of foreign food to the Chinese market. There is a lot of good stuff out there," Guo said, adding that her company's goal is to have a daily turnover of 600,000 yuan next year.
Lin Wei, founder of China's first imported wholesale food website, said he saw a two-fold growth every year in imported food sales since entering the industry in February 2007.
"China's potential as a food-importing country is vast and it will continue to expand along with the rapid growth of China's middle class," Lin said.
"A 200g package of imported cookies can be priced at 40 yuan while domestic ones usually sell for less than 5 yuan. You can imagine the purchasing power I'm talking about."