Couple build their own care ward to battle rare cancer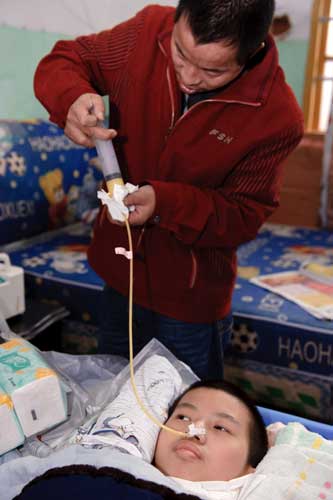 Huang Fusen feeds congee to his son Huang Jianfeng through a tube in a makeshift ICU near their home in Fuzhou, Fujian province in this photo taken on Dec 10. [Photo/Xinhua]
FUZHOU - After they had shelled out almost all their money to pay for their son's stay in hospital, the 14-year-old's parents decided to set up an ICU near their own home.
In a deserted clinic in a shantytown to be torn down in East China's Fuzhou city, the boy struggles on with rented life support equipment, oxygen tanks and around-the-clock family care.
"We know it's dangerous and we are always afraid of emergencies," said Zhang Xiaoying, the boy's mother. "But we really can't afford hospital treatment."
Related readings:


 Love brings young and old together


 Connecting with parents far away


 Help parents who lose only child

 Family doctor style health care for Shanghai
The couple's son, Huang Jianfeng, is fighting chordoma - a bone cancer that attacks the head and spine - that has left him paralyzed below the neck.
Chordoma is often resistant to chemotherapy, and it is prone to multiple recurrences. The average survival period after diagnosis is seven years, according to the Chordoma Foundation, a United States-based nonprofit organization.
Huang was diagnosed in July last year and underwent an operation one month later. But the tumor reappeared in March and his condition deteriorated in October.
The tumor is growing near Huang's respiratory nerve center.
Doctors told local media it was a miracle for Huang to survive more than 30 days in the hospital's ICU.
But that stay cost nearly 110,000 yuan ($16,400) and plunged the family deep into debt, forcing them to take the boy out of hospital on Nov 21.
Huang Fusen, the boy's father, said the cost of treatment over the past year grew to 330,000 yuan, an enormous amount for a couple who earn a monthly salary of 2,400 yuan working as supermarket cashiers.
The Chinese government used to pay 90 percent of urban residents' healthcare and essentially 100 percent of rural residents' healthcare in the first three decades of the People's Republic of China.
But the system was dismantled as the country switched to a market-oriented healthcare system in the early 1980s.
High costs have prompted the government to increase healthcare funding in recent years, but the extra funding failed to help the Huang family.
"What we earn in one month is not even enough for our son to stay one day in the hospital's ICU," Huang moaned. "And renting a house is not an option because no landlord will allow a critically ill person in their apartment, as they think it's unlucky."
The father said the deserted clinic was the family's last resort. Though he does not need to pay rent, he has to fetch water in buckets because there is no tap water.
But that isn't the hardest part. The life support equipment rented for 3,800 yuan a month is old and the family has little medical experience.
The mother recalled that the day after they "checked in" to the home ICU, a blackout disabled the life support system and forced the couple to manually pump oxygen into their son's lungs.
"We feared our son would die and didn't stop pumping. Fortunately, the power resumed in the afternoon," she said.
Even without emergencies, taking care of their son in the "home ICU" is not an easy task.
The boy needs to be fed by injection, and family members are learning how to carefully use a syringe to inject fish broth down a tube that runs to his stomach.
"We won't give up. Even with only a 1-percent chance, we will make up the other 99 percent with our efforts," the mother said.
The family's plight has garnered public attention, and a micro blog on Sina Weibo, China's popular Twitter-like service, attracted more than 12,000 hits in the two days after it went live on Thursday.
Huang's father said the family is thankful for the 40,000 yuan in donations the family received after their story was reported.
With the money, the parents will check their son back into hospital.
But the mother hit a slightly nostalgic tone.
"I guess our son will miss being here because we are around him every minute," Zhang told the Beijing News, adding that when the boy was in the hospital ICU she was only able to stay with him a few minutes per day.
"I cried every time I saw him not being taken good care of," she said. "And he cried every time he saw me in the ICU."
Xinhua