Award 'cannot change fact he is a criminal'
BEIJING - Most nations support China's stance on the Nobel Peace Prize, and China will not yield to outside pressure on this issue, Foreign Ministry spokeswoman Jiang Yu said on Thursday in response to a question concerning the prize being awarded to convicted criminal Liu Xiaobo.
"Any attempt to deter China from development will be futile," she said.
Related readings:


 China opposes to US resolution on Nobel Peace


 China's Nobel Peace stance wins support


 FM: China ties with Norway affected by Nobel

 Award goes against peace


Prize-winner is anti-China
She made the remark during a regular press briefing, a day before the award is due to be formally bestowed.
Jiang denounced what she said were "double standards" applied to China's legal system, and criticized the US House of Representatives for calling on the Chinese government to release Liu.
She said most nations do not support the Nobel Committee's "wrong decision". Any move by the committee will not change the fact that "Liu committed crimes", she said.
More than 100 nations and international organizations have expressed their support for China's stance, she stressed.
The majority of countries keep their distance from the Nobel Committee and many have declined to attend Friday's ceremony, she said.
This shows that "justice lies in the heart of the people", she added.
Meanwhile, China also urges the relevant US lawmakers to "stop the wrong words and activity on the Liu Xiaobo issue and to change their arrogant and rude attitude", Jiang said.
"They should show respect to the Chinese people and China's legal sovereignty."
"The US Congress' so-called resolution distorts the truth, and it is flagrant interference in China's internal affairs," Jiang said.
The US House of Representatives approved a resolution on Wednesday that congratulates Liu for winning the Nobel Peace Prize and calls on China to release him.
Liu was sentenced to 11 years in prison on Dec 25, 2009, after a Beijing court convicted him of violating Chinese law and engaging in activities aimed at overthrowing the government.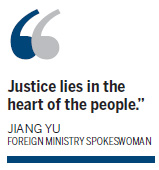 According to Jiang, Liu had incited others to subvert State power and overthrow the socialist system through writing incendiary articles, releasing them on the Internet and organizing and inducing others to sign in support of his articles, which violated Article 105 of the Criminal Law.
"The behavior by Liu is not just a matter of critical comments, it has become harmful to society," said Jiang.
China has repeatedly voiced opposition to the award of the Nobel Peace Prize to Liu.
"The people on the Nobel Committee must admit they are the minority. The Chinese people and a majority of countries and people in the world all oppose what they have done," she said.
Jiang said earlier that the Nobel Committee's decision to grant the peace prize to a convicted criminal was tantamount to overt support for criminal activities in China, and a gross interference in China's judicial sovereignty.
She indicated that the Nobel Committee had no right to judge China's internal affairs.
Some foreign observers also supported China's position.
Fredrik S. Heffermehl, a Norwegian lawyer, reiterated his criticism against the Nobel Committee on Wednesday for awarding the 2010 peace prize to Liu.
In an e-mail sent to reporters in Oslo, Heffermehl said: "Rather than cooperation and dialogue, this year the Nobel Committee has promoted controversy and ill will."
"A group that has demonstrated such unfamiliarity with modern peacemaking ideas is disqualified and should resign immediately," said Heffermehl, author of the book The Nobel Peace Prize: What Nobel Really Wanted.
Heffermehl, speaking of the purpose of the prize, noted that "the 2010 Peace Prize reflects the mindset of people still caught in Western paternalism and a Cold War mentality".
While many analysts have argued that the Nobel Peace Prize has become a tool for the Nobel Committee's political goals, some committee officials have admitted publicly that interference with China's social institutions has been a long-term goal.
For instance, Geir Lundestad, secretary of the Norwegian Nobel Committee, said during a talk at Oxford University at the end of October that in recent years, the committee judges had gradually come to believe they had to "address the China question", and finally, Liu became an "obvious choice" for them to "address China".