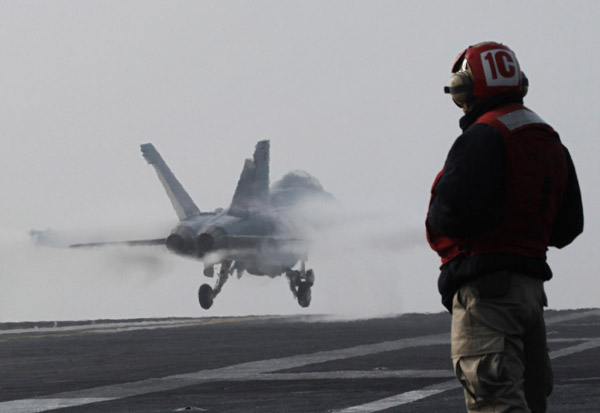 A US Navy F/A-18F Super Hornet takes off from the USS George Washington aircraft carrier during joint military drills between the US and South Korea, November 30, 2010. [Photo/Agencies]
BEIJING - China on Tuesday called for a resumption of dialogue and negotiations amid rising tensions on the Korean Peninsula.
"Under current circumstances, it is imperative and important to return to dialogue and negotiations as soon as possible," said Chinese Foreign Ministry spokesman Hong Lei at a regular press conference.
Related readings:


 DPRK to develop nuclear capability for peaceful use


 DPRK calls US-ROK naval drill a new provocation


 DPRK blasts US, ROK joint exercises


 Senior DPRK leader to visit China

Hong said China hoped all parties concerned could work together to properly address each other's concerns within the framework of the Six-Party Talks and maintain peace and stability on the Korean Peninsula.

The talks group China, the Democratic People's Republic of Korea, the United States, the Republic of Korea (ROK), Russia and Japan.

Hong's remarks came as the ROK-US joint naval drill in waters west of the divided Korean Peninsula entered a third day, following the exchange of artillery fire last Tuesday between the ROK and the DPRK.

China on Sunday proposed emergency consultations among the heads of delegation to the six-party talks early next month.

"The starting point for China proposing emergency consultations is to ease the tensions on the Korean Peninsula and provide a platform of engagement and dialogue," Hong said.

"We believe all parties concerned will consider China's proposal seriously and give a proactive response," he added.

Hong urged all parties to create conditions for restarting the stalled talks, the most urgent task at present.

Hong said Akitaka Saiki, Japan's chief negotiator to the Six Party Talks, arrived in Beijing Tuesday. He will hold talks with Wu Dawei, Chinese special representative for Korean Peninsula affairs.

On a five-day China visit beginning Monday by Choe Tae Bok, chairman of the DPRK Supreme People's Assembly, Hong said Choe was visiting at the invitation of Wu Bangguo, chairman of the Standing Committee of the National People's Congress of China.

Choe would discuss the "bilateral relationship, inter-parliamentary exchanges, and issues of common concern," said Hong.

Apart from Beijing, Choe will also visit northeast China's Jilin province.