BEIJING - British Prime Minister David Cameron arrived in Beijing Tuesday on his first official visit to China since he took office in May.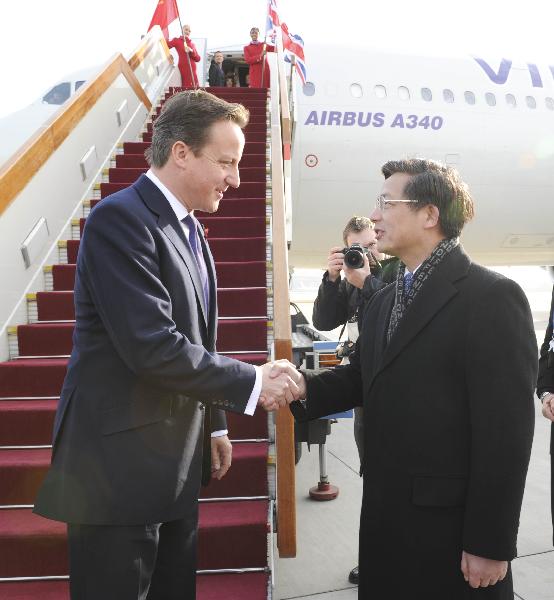 British Prime Minister David Cameron (L) is greeted upon his arrival in Beijing, Nov 9, 2010. [Photo/Xinhua] 
Related readings:


 UK's Cameron seeks to double trade with China


 China, UK seek closer ties in economic dialogue


 China-UK Economy and Financial Dialogue held in Beijing


 Agreements reached by UK, China

He is to meet with Chinese President Hu Jintao and hold talks with Premier Wen Jiabao. Cameron will also attend the China-UK Business Summit along with Chinese leaders and deliver a speech at Peking University.
A UK delegation, comprising Chancellor of the Exchequer George Osborne, Secretary of State for Energy and Climate Change Chris Huhne, Secretary of State for Education Michael Gove and Secretary of State for Business, Innovation and Skills Vincent Cable, has also arrived in Beijing. About 50 leading UK industry and commerce figures are also in the entrourage.
"It is the biggest delegation ever to China, led by a British Prime Minister," Sebastian Wood, British ambassador to China, told a press briefing in the embassy prior to the visit.
Wood said the visit was a clear sign of the new coalition government's strong commitment to build on the relationship, and intensify overall engagement with China.
The two sides will hold discussions on a wide range of topics including trade, finance, energy and education.
Chinese Foreign Ministry spokesman Hong Lei said bilateral relations had developed soundly since Cameron's coalition government was formed, with frequent high-level contacts and smooth cooperation.
"China is ready to work with Britain to promote the continuous development of their comprehensive strategic partnership," he said.