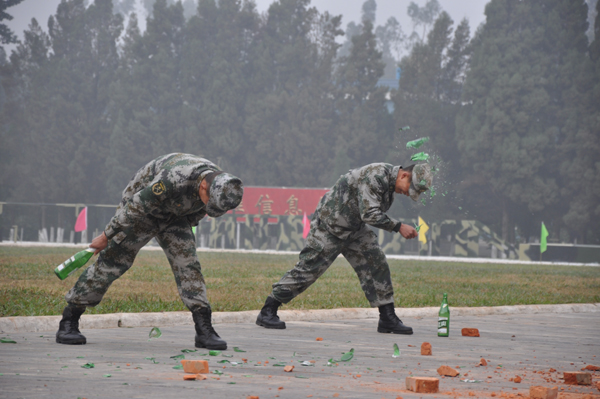 Chinese soldiers who can practise qigong (breath exercise) show the stunt of breaking bottles with their head in the training's opening ceremony. [Huang Zhiling/chinadaily.com.cn] 
It was foggy on Friday morning in Kunming, capital of Yunnan province, which is known as the city of spring.
But onlookers were impressed by the boxing and wrestling demonstration by soldiers of the Chengdu Military Region of the Chinese People's Liberation Army.
They were startled when they saw soldiers sitting on the ground, with five bricks on the head of each man. Another man used a big hammer to break the bricks. But none of the men under the bricks were scathed.
The demonstration was part of the opening ceremony of the "Friendship Action 2010" Chinese-Romanian mountain troops common training.
This is the first time a Romanian land force sub-unit has common training in Asia.
"Friendship Action 2010" was the second mountain troops common training between China and Romania.
In September 2009, a 26-member Chinese contingent was assigned to Romania for the first China-Romania Mountain Troops Common Training code-named "Friendship Action 2009."
Thanks to the elaborate preparations by the Romanian side as well as the close cooperation between both sides, the common training was a success.
"This year, we are continuing the training activities started last year in Romania, in order to develop and improve the skills of military troops of carrying out common military actions, as well as exchange experience between both militaries on branch training," said BG. Mihai Ciungu, who led the Romanian contingent in the training.
"Romanian and Chinese cooperation has a long history, and this common training will show to the world that troops from countries so far geographically are able to organize, prepare and develop common actions, and that the two sides are able to use the same military principles, the same tactics. We are more than friends, we are brothers in arms, " he said.
Major General Ci Guowei, Deputy Chief of the Foreign Affairs office, Ministry of National Defense of the People's Republic of China, said the friendship between the Chinese and Romanian peoples has been deep and enduring.
Over 61 years since the two countries established diplomatic relations, the bilateral ties have experienced and withstood the test of time, events and changes in the international environment, and keep progressing in a healthy manner.
Thanks to sincere cooperation and friendly exchange, the traditional friendship between the two militaries also keeps advancing, he said.
The Romanian military delivered 41.27 million yuan (US$6.2 million) worth of relief materials to China after the devastating Wenchuan earthquake on May 12, 2008. The Romanian friendship will be always remembered by the Chinese people and military, he said.
The training will end on November 13.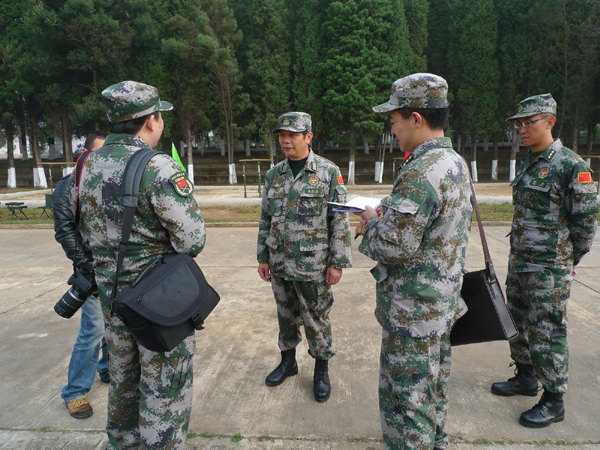 Senior colonial Qin Xiangyou (center) from the Chengdu Military Region who leads the Chinese soldiers in the training asnwers reporters'questions about the training. [Huang Zhiling/chinadaily.com.cn]