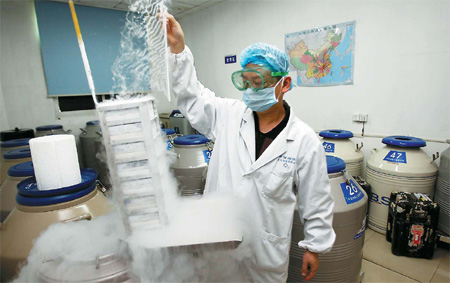 A laboratory worker checks sperm samples stored in liquid nitrogen at the reproductive health center of Xiangya Hospital in Changsha, capital of Hunan province, which offers IVF treatments. [Zhang Tao / China Daily]
Patients at unlicensed clinics are often couples sent there by surrogacy agencies, whose practices are a legal gray area in China but technically outlawed.
"You can tell how widely available illegal services are by looking at the advertisements of surrogacy agents on the Internet," said Yang Fang, a professor of medical ethics at Anhui Medical University.
"As most authorized hospitals don't provide such services, agents can only arrange patients to have IVF treatments at hospitals without the necessary license," she said.
China Surrogacy, an agency based in Beijing, offers one package for 380,000 yuan on its website.
A member of staff told China Daily by phone that the company can arrange surrogate mothers and IVF treatments "at one of the best hospitals" in the capital, although he refused to name the hospital.
Yang explained that public health departments do not have effective ways to regulate the ART industry and close down the illegal services because they "only have the right to supervise authorized hospitals".
"Many of (the illegal centers) are registered as companies instead of hospitals," she added.
Unlicensed clinics have also been a boon for families looking to have a second child without the required permit from the family planning authorities.
A 39-year-old woman who insisted on being identified by her online nickname, Zhi Zu, revealed she and her husband already have a son of 17 but now plan to exploit loopholes in the system to have a second child.
"We're not worried about money," said the mother, who hails from Northeast China's Liaoning province but explained she is receiving IVF treatment at Beijing Jia'en Hospital.
"I bought a fake birth permit and after the child is born I will buy him or her hukou (permanent residency)," she said.
Hospitals offering IVF treatments are required to check a patient's identity card, marriage certificate and birth permit, although a system to check the authenticity of birth permits is yet to be put in place.
Teng at the Shanghai maternity hospital explained that his staff member will contact family planning officials in the patient's hometown for confirmation if they are suspicious. "However, if the fake looks just like the real thing, most employees won't think to check," he said.
Zhi Zu said she is not alone in wanting a second child; a trend she says is due to fact people want bigger families when they become wealthier.
Many parents have joined in with a chat group she set up on QQ, a popular Chinese messaging service, about her situation. Other topics being discussed include the growing number of people opting for gender screening, which is illegal in China, and the possibility of having twins through IVF.
Gender screening can only be done with the latest ART equipment, which is available at only a dozen hospitals nationwide, said Teng, explaining: "It's not possible for patients to do that at a licensed clinic."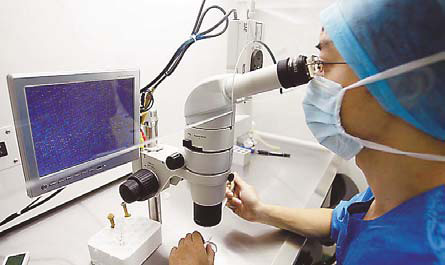 A researcher examines samples taken from a patient receiving IVF treatment at the reproductive health unit at Xiangya Hospital. [Zhang Tao / China Daily]
Question of control
Government bureaus responsible for supervising healthcare and industries have launched several crackdowns on illegal ART services. However, the fundamental problem, say experts, lies with the absence of any criminal or civil law that punishes owners of unlicensed practices.
Following the initial boom in IVF in the late 1990s, the Ministry of Health in 2001 released its first directives stipulating the ethics of IVF and the rules of qualification and procedure. The next year, an authorization system was established. Today, hospitals cleared to offer IVF treatments are strictly evaluated and receive regular inspections by officials.
"Unfortunately, the rules that are in place have not proved practical," said Sun Muyi, a professor of medical ethics at Southeast University in Nanjing, capital of Jiangsu province.
The numbers of hospitals that can obtain an IVF license from the ministry is strictly controlled and some in the industry say that by approving more applications, officials could take a big step toward solving the problem of illegal services.
Yet, Sun disagreed and said only a strong deterrent will work.
"This is serious," he added. "The abuse of IVF could affect our next generation. Improper operations increase the risk of birth defects in babies, while being able to choose the sex could impact the gender balance."