Rising demand for IVF treatment fuels spread of unlicensed clinics. Cao Li and Duan Yan in Beijing report.
As a cold, monotone voice echoed along the whitewashed corridors, women sat or stood against the walls in silence, their faces carved with frustration. They were all waiting for their name to be called, for their chance to make a dream come true.
The line to see fertility specialists at Peking University No 3 Hospital in Beijing stretched out of the main entrance, with dozens forced to wait outside in the swirling autumn wind. Staff members said it is a common sight.
With sterility now affecting 40 million people in China, couples are increasingly turning to in vitro fertilization (IVF) in order to have children.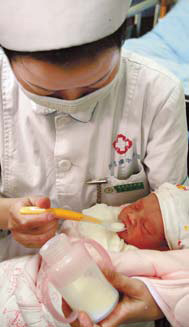 A nurse feeds a twin conceived through in vitro fertilization in Mianyang, Sichuan province, in this file photo taken in August 2010. [Huang Jiaming / for China Daily]
However, medical experts say that the commercialization of the practice in recent years has led to a spread of unlicensed clinics offering illegal services to parents and surrogacy agencies.
IVF, which involves mixing the eggs and the sperm in a laboratory before implanting them in a woman's womb, has steadily developed in China since its introduction two decades ago, with patient numbers soaring.
Records from the prestigious Peking University No 3 Hospital, where China's first "test tube baby" was born in 1988, show doctors there treated 3,500 patients in 2008 and 5,000 last year. That figure is expected to top 7,000 by the end of this year, said Qiao Jie, director of its reproductive medical center.
Patient numbers are also swelling by about 50 percent every year at the Shanghai No 1 Maternity and Children's Hospital, according to reproductive health director Teng Xiaoming.
"My husband has problems," said a 23-year-old woman who gave her name as Li Lei. She was waiting for her husband of two years to finish a checkup at Peking University No 3 Hospital.
"We have visited various hospitals and tried everything, even herbal medicines, but nothing has worked," she said.
The couple from Tangshan in Hebei province decided to try assisted reproductive technology (ART) after Li heard about a neighbor who had a baby through IVF.
"I want two babies," she said, greeting her husband as he emerged from the doctor's room with a hopeful smile. "The best thing would be to have a girl and a boy."
Exploiting loopholes
Reproductive health expert Qiao estimates that at least 10 percent of the people suffering infertility nationwide need the help of IVF treatments, which can cost up to 50,000 yuan ($7,500).
To meet such a demand, authorities have so far approved applications to start running ART services from more than 200 clinics nationwide. However, experts say the number is still far from enough, fueling a rise in illegal operations, sometimes at established hospitals.
Although no official figures exist on how many unlicensed centers are up and running nationwide, Wu Jian, a graduate from Shandong University's law school who researched the state of IVF technology in China as part of his studies, said he believes they are now widespread.
"After more than 20 years of IVF being practiced in China, it is already a mature technology that is not difficult to use," he said. "Also, the money involved helps lure unauthorized institutions into taking the risk."