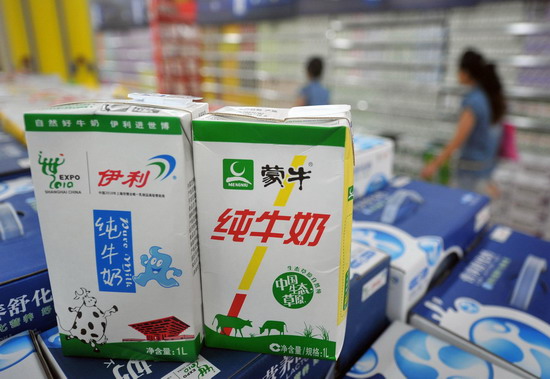 This Sept 16, 2010 file photo shows milk packages made by Mengniu Dairy (R) and Yili Group at a supermarket in Haikou, capital of South China's Hainan province. [Photo/Xinhua]
BEIJING - A highly publicized incident about milk products that caused baby girls to develop breasts may have been a smear campaign by a competitor.
Mengniu Dairy Co, the largest dairy company in the country by market value, on Wednesday denied rumors that it was assisted by a public relations company in plotting online attacks against its competitors, the Yili Group and Synutra International.
Related readings:


Milk scandals add doubts on food safety: Poll


Breast milk a bulwark for babies


Milk cleared of causing early puberty


No extra hormones found in milk
Rumors are now circulating that Mengniu made up a story that spread online in July, which claimed Yili's infant formula contained fish oil that could lead to premature sexual development.
Mengniu also allegedly plotted a public relations campaign to create a milk powder scandal, in which Synutra products were reported to have caused baby girls to develop breasts.
Two members of management at Mengniu and members of staff at its partner BossePR have been detained, according to the rumors.
"Mengniu never planned or participated in any activity related to the Synutra case," Mengniu said in a statement sent to China Daily on Wednesday.
"We have reported the case to the police and any individual or organization who made up and released the false information will be held legally responsible," the statement read.
"All our senior management staff are now safe and sound at work," the company said.
But Liu Jiang, a police officer at Hohhot public security bureau in Inner Mongolia autonomous region, where Mengniu and Yili are based, has confirmed that a Mengniu executive has been detained, caijing.com.cn reported on Wednesday.
Yili also insisted on Wednesday that its reputation has been tarnished by competitors.
"We are sure that Mengniu's division manager, An Yong, and members of staff at BossePR have been caught by police," Ma Teng, publicity manger of Yili, told China Daily on Wednesday.
"Their detention may not be directly related to the Synutra case, but we cannot exclude its connection to our case," Ma said.
Qingdao-based Synutra was put in the spotlight in August after infant girls in Hubei, Guangdong and Shandong provinces were reported to have developed prematurely after drinking the company's baby formula.
The Ministry of Health later cleared Synutra, saying the content of sex hormones in Synutra milk powder did not exceed national or international standards.
Chen Yu, a dairy industry analyst for the Ministry of Agriculture, said infant milk powder accounted for a very small amount of Mengniu's business and that Synutra, a leading infant milk powder producer, is not one of Mengniu's main competitors.
"It is not logical for Mengniu to plot a scandal against Synutra," Chen told China Daily.
Niu Gensheng, a former Yili employee, founded Mengniu in 1999. Mengniu and Yili are now each other's biggest competitor.