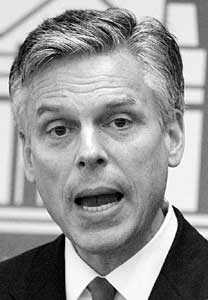 Jon Huntsman stresses mutual respect, equality are vital for bilateral ties.  
BEIJING - Washington's pressure on Beijing to increase the yuan's value is partially driven by domestic politics ahead of looming midterm elections, the top US envoy in China suggested on Tuesday.
Currency debates between the US and China have become "high profile" with midterm elections in November and a stubbornly high unemployment rate in the US, Ambassador Jon Huntsman said in a town hall meeting broadcast online in Beijing as he responded to questions from an audience in America.
"So people care deeply about it and they want to talk," he said during the one-hour event.
Tensions over the yuan have been escalating recently with Washington pressing for faster appreciation.
The US Treasury Department last week postponed, for at least a month, a report on whether China is manipulating its currency for an unfair trade advantage. The yuan has risen nearly 3 percent since June.
The ambassador, just back from a trip to the Tibet autonomous region, also discussed non-financial issues and said it is necessary for people in the US to understand that China has various regional cultures across its vast territory.
Related readings:


 US backs off in currency dispute with China


 How to prevent currency war?


 US to delay decision in China currency dispute


 China trying to avoid currency war

He was the first US ambassador to visit Lhasa, capital of Tibet, since 2002. Riots, plotted by separatists, erupted in Tibet in the spring of 2008.
To improve ties between the two nations, Huntsman said the US and China must be able to reach "a cruising altitude of mutual respect and equality".
"Where, for the big issues of the day, we're able to sit down at a negotiating table and find solutions," he said.
"It takes a generation to understand a relationship for what it is and not what it isn't," he said.
Huntsman also noted changes happening in China.
"There's a dynamic of change that is occurring here," he said, adding he has been surprised by the amount of open discussion on Chinese Internet sites and by candid conversations he has had with students on Chinese campuses.
Huntsman, a fluent Mandarin speaker with a deep knowledge of Chinese affairs, was appointed ambassador in 2009 while he was governor of Utah.
Stephen Orlins, president of the National Committee on US-China Relations who interviewed Huntsman during the webcast, said that with US midterm elections to be held next month, the interview was timely.
"We created this program in the belief that US-China relations would be the defining relationship of this century, and that misunderstanding this relationship creates threats to peace and stability throughout the world," Orlins said.
"With China being a major issue in the election for the first time in memory, we could not have better timing to discuss" these issues with Jon Huntsman, he said.
Ni Feng, deputy head for American studies at the Chinese Academy of Social Sciences, said the China issue has come under the spotlight in the US because of "economic tension" there.
Ni predicted that the Democrats were likely to maintain a Senate majority but lose the House.
"Huntsman, as a Republican working for a Democrat government, has a relatively detached identity to explain the US position on China relations."
Shi Yinhong, a senior scholar on US studies at the Beijing-based Renmin University of China, said that what Huntsman said in Beijing would have a limited impact on US voters.
"Huntsman's speech is more likely aimed to ease, although slightly, the current tension in bilateral economic ties," Shi said.
Ma Liyao and Kelly Chung Dawson contributed to this story.