Increase in down payments and new tax aim to curb rising prices
BEIJING - New measures to curb rising real estate prices, including raising down payments for home purchases and expanding property tax trials nationwide, were launched on Wednesday highlighting the government's resolve to cool the property market.
Related readings:


 91% unsatisfied with home price: Survey


 China housing prices post slower growth in July


 Rebound spurs talk of new curbs


 Hoarding of land tackled in new rules on property
Homebuyers purchasing their first apartment now need to pay at least 30 percent down payment, instead of the previous 20 percent, according to an article on the government's official website, www.gov.cn.
The requirement for second property purchasers was also raised to at least 50 percent from 40 percent.
Under these measures, buyers of a 2-million-yuan ($299,000) apartment in Beijing need to pay an extra 200,000 yuan in down payments - a yearly income for a middle class family.
The article, which quoted unnamed government ministries, reiterated that banks are forbidden to provide loans to buyers seeking a third property.
Meanwhile, the introduction of a trial property tax in some cities will be implemented nationwide, the article said. Shanghai, Shenzhen, Beijing and Chongqing are believed to be the first batch of cities to face the tax.
"All these measures are expected to chill the rebounding market instantly by changing expectations," said Qin Xiaomei, chief researcher with property consultancy Jones Lang LaSalle Beijing. "Potential buyers may take a wait-and-see attitude and property developers may offer bigger discounts to stimulate sales."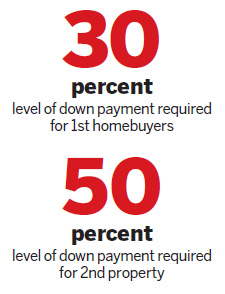 The measures came just two days after the ministries of land and resources and housing and urban-rural development vowed to crack down on property developers who hoard land.
The ministries said on Monday that developers who had land idle for more than a year will be banned from bidding for new land slots.
"Such an intensive launch of policies reflects the government's resolve to address high property prices, a major concern for most Chinese families," said Yi Xianrong, a researcher with the Chinese Academy of Social Sciences.
Beijing municipal bureau of statistics said on Sept 13 that the average price per square meter for apartments along the Fourth Ring Road was 34,000 yuan, but the total per capita disposable income of local residents for the first eight months of this year was only 19,458 yuan.
Real estate transactions in China's major cities showed a marked rebound since mid-August, with a number of projects increasing their prices.
According to Beijing Real Estate Transaction website, sales of future delivery housing and completed homes during the Mid-Autumn Festival were 638 units. This represented a 273.1-percent rise for future housing and a 236.2-percent rise for completed homes compared with units sold during the Dragon Boat Festival in May, one month after the government launched a series of measures to curb property speculation.
The new measures, however, also raise concerns for the economy and stock market.
Yu Bin, head of macroeconomic research department at the State Council Development Research Center, said the biggest economic uncertainty in the fourth quarter and the first half of next year comes from the falling real estate investment.
Currently, real estate investment accounts for 25 percent of the country's fixed asset investment.
"Plummeting property sales and prices will leave the economy facing relatively heavy downward pressure next year," said Yu.
Most economists anticipate China's gross domestic product (GDP) growth to reach 9.5 percent this year but drop to 8.5 or 8 percent next year.
Chinese equities declined on Wednesday, led by property developer shares, on speculation that the government might announce new measures to cool the real estate market.
Credit Suisse recommended "reducing exposure" to Chinese property stocks in the near term, saying a property tax would hurt real estate market sentiment and property stocks' performance, analysts led by Jinsong Du wrote in a note to clients on Wednesday.