MANILA, Philippines - United States interference in the South China Sea territorial disputes between China and Southeast Asian countries is only going to make things worse, experts say.
Related readings:


 How US can avoid road to ruin


 Long-term perspective vital in Sino-US ties


 US gunboat policy and its hidden agenda


 It's time US realized value of peace
US President Barack Obama and Southeast Asian leaders will call for the peaceful settlement of South China Sea territorial disputes and urge claimants not to resort to force, according to a draft communiqué quoted by AP.
"The US is in no position to intervene as an outsider of the area," said Xu Liping of the Chinese Academy of Social Sciences, adding that Washington has never before voiced such opinions.
And "the issue is between China and related Southeast Asian countries, and to internationalize it (will) only make the issue more complicated."
Washington upped the ante in July, when Secretary of State Hillary Clinton told a regional security forum in Vietnam that a peaceful resolution of the disputes over the Nansha and the Xisha islands was an American national interest.
Beijing objected strongly by saying Washington was interfering in an Asian regional issue.
China is now having overlapping claims of the South China Sea with Vietnam, Malaysia, Brunei, and the Philippines.
Washington has said its concern that conflict in the region would hamper US access to one of the world's busiest commercial sea lanes.
But the real, long-term purpose, according to Xu "is to contain China and return to Southeast Asia, which is an established strategy of the US."
"China will not ban passage of any ships, as long as it is in conformity with the United Nations Convention on the Law of the Sea - including the US ships," said Tao Wenzhao, a researcher at the Institute of American Studies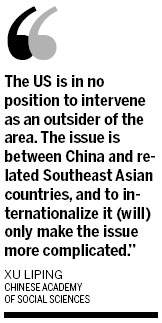 .
The US, Tao added, is only looking for an excuse to mask its true aim of projecting increased power in the area.
Obama will meet leaders from the 10-member Association of Southeast Asian Nations on Friday to discuss ways to bolster their alliance and discuss economic cooperation and security issues, including the South China Sea disputes.
Obama and the ASEAN leaders will issue a joint statement where Washington has proposed text to reaffirm the importance of freedom of navigation, regional stability, respect for international law and unimpeded commerce in the South China Sea, according to AP.
The statement will also oppose the "use or threat of force by any claimant attempting to enforce disputed claims in the South China Sea."
All the leaders are to reaffirm their backing of a 2002 ASEAN-China declaration on the conduct of parties in the South China Sea, which calls on claimants not to take steps that could foment violence and spark new tension. They will encourage claimants to agree on a stronger code of conduct.
China Daily-Associated Press