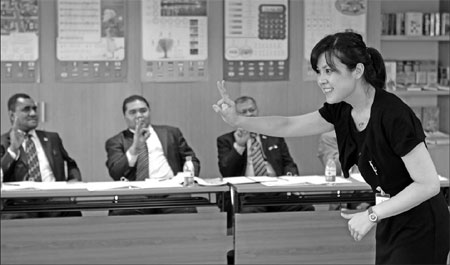 Diplomats, embassy staff members and spouses stationed in Beijing get a lesson in counting from a teacher at the Confucius Institute on Saturday. The 10-week course will focus on practical Chinese the visitors can use in their daily life. Zou Hong / China Daily
Confucius Institute offers 10-week program at beginner and intermediate levels
A total of 56 diplomats from 26 countries will sit in classrooms at the Confucius Institute every weekend to study practical Chinese in a program that started on Saturday.
The course will last for 10 weeks. Diplomats, including 15 ambassadors and their spouses, will spend two and a half hours every weekend learning how to speak Chinese.
Related readings:


 Diplomats exchange ideas on fashion and culture

 Diplomats' recreational games held in Hangzhou


 40 Yemen diplomats to get training course in China


 Proposed law fetters diplomats' marriage
Apart from the language itself, cultural topics such as Chinese opera, calligraphy and Chinese drawing will also be introduced into the class.
"Our male diplomats' wives would be more than happy if their husbands learned not only Chinese but how to cook a Chinese meal," said vice-minister of education Hao Ping at the opening ceremony.
"With a combination of language and culture, we come to a sustainable way to understand a language," said Xu Lin, director-general of the Confucius Institute.
The Institute is the organizer of the program.
To better tailor the course to the demands of these special students, the institute divided them into four classes with a maximum of 15 students and two levels, beginner and intermediate.
Beginners will study greetings, time and date and enough words to make simple conversations. Those at an intermediate level will focus on describing things, expressing feelings and more complicated sentences.
In addition, each diplomat is assigned a volunteer from Beijing Foreign Studies University who is majoring in the language that the diplomat speaks. They will practice speaking with the diplomats.
Many of the corp are very excited.
"I have been in Beijing for almost four years, but never really got a chance to study Chinese. It is a good opportunity to learn the language and culture," said Juan Enrique Moya Suarez, agricultural attach with the embassy of Chile.
Lucy Sunkuli, wife of the ambassador of Kenya, said she hopes to go shopping and ordering food in Chinese after the program.
This is the second Chinese program for foreign diplomats. The first one was attended by 31 diplomats from 16 embassies in July.