Commuting on two wheels is getting perilous. Gao Qihui in Beijing reports.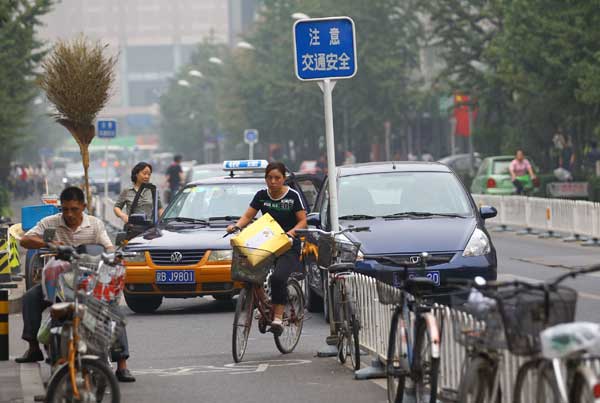 A taxi driver blocks a bicycle lane with his cab to pick up a passenger in downtown Beijing. Cyclists say it is a common sight and complain inconsiderate drivers and the increase in faster electric bikes have made the streets a more dangerous place to ride. Transport experts say bikes are being 'squeezed off the roads' in China's major cities and have urged authorities to protect riders' rights. [Zou Hong / China Daily]
When Yan Bing pulls into the parking lot outside her office building in downtown Beijing every morning, she is one of only a few who is on two wheels.
Although most of her colleagues commute by car, the 27-year-old has stuck with pedal power since she was in junior high school. However, even she is debating whether to continue her daily battle with the capital's traffic.
"You can avoid congestion on a bike. It's convenient and also healthy exercise," said the junior official with the Xicheng district government. "The problem is the traffic is terrible."
Related readings:


 E China races ahead with green transportation


 Comment: Cars putting squeeze on bikes


 Hangzhou Special: Reuse, recycle, bicycle


 Enjoying cycle lanes free of cars

Despite efforts by cities across China to get more people back onto bicycles, experienced cyclists like Yan say motorists and urban planners are ignoring their interests and endangering their lives.
"Apart from the fact there are more electric bikes shuttling along the bicycle lanes and breaking the rules of the road, many cars and vans also cut into the lanes or park there, which is dangerous," said Yan.
Roughly 63 percent of commuters traveled by bicycle in Beijing in 1986. Today, that number is already below 18 percent, while the amount of cars on the capital's roads has rocketed from 77,000 in 1978 to 4.3 million as of last May.
Forty percent of cyclists who responded to a survey published on the Beijing Transportation Research Center website said they are unhappy with conditions on the roads, while many have already quit the saddle due to safety concerns.
Data from the National Bureau of Statistics shows 712 cyclists were killed and another 3,114 injured in road traffic accidents nationwide in 2008.
"Bike riders have become a disadvantaged group," said Duan Liren, a professor at Chang'an University and former deputy director-general of the Beijing traffic management bureau. "They're being slowly squeezed off the roads."
Since the 1990s, the boom in automobile sales nationwide has resulted in routes becoming clogged with cars, posing a tough puzzle for urban planning officials. Unfortunately for cyclists, the preferred solution in many cities has been to narrow or even remove bicycle lanes from roads to make more room for the increased traffic.
In some areas of Guangzhou, capital of Guangdong province, lanes have been moved onto sidewalks and are just 1 meter wide, leaving little room to maneuver.
Bicycle routes are also noticeably missing from the blueprints of many newly designed or completed urban expressways and main thoroughfares.
"Whenever I hit an expressway or a cloverleaf junction (a two-level interchange), I can't use it," said Yan. "I have to take a detour."
Many roads and bridges are also no-go zones for bicycles. In Wuhan, capital of Hubei province and Central China's largest city, cycling is permitted on just one of its seven Yangtze River crossings.
A spokesperson for the city's traffic management bureau said she did not know when or why the ban was implemented.
Two of three cross-Yangtze bridges are also blocked to two-wheeled traffic in Nanjing, capital of Jiangsu province, although officials there said it is to protect cyclists' safety.
"Governments need to adjust this preference for motor vehicles over pedestrians and bicycles," said Zhao Jie, director of the Chinese Academy of Urban Planning and Design's transport research institute.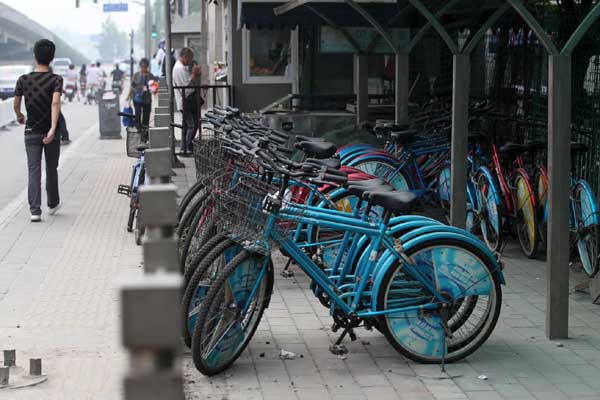 A bicycle rental point near Lama Temple in Beijing. Officials in the capital plan to promote such services and, by 2012, it is expected there will be 1,000 rental stations offering 20,000 bicycles. [Feng Yongbin / China Daily]