Job agencies catering to foreign tutors also offer "window dressing" services, albeit mostly on the quiet.
ChinaESL advertises teaching vacancies on websites and in Beijing listings magazines, such as The Beijinger. When a China Daily reporter approached them posing as an executive looking to hire expats by the hour for corporate meetings, a member of staff surnamed Tang responded by offering a price list.
"We charge 600 yuan for an hour and 3,000 yuan for the day," she said. "I can promise you they will look and act like professionals during your event (our laowai) are all experienced and know what they are doing.
"You can choose from different skin colors and accents if you want them to talk," she added.
Later that same day, the China Daily reporter called ChinaESL and asked the same question, only this time revealing their true identity. "We only provide foreigners for English language teaching positions, that's all," the customer service worker insisted before hanging up the phone.
Dressed to impress
Three days after Hutton's interview with Liu's agency in Soho, he was offered a job: He was to accompany the manager of a Beijing-based trading company as his foreign consultant to a day of contract negotiations with a firm from Central China's Henan province.
"I'm really excited about my small role in this game," he said as he practiced the "lines" he was provided by the client.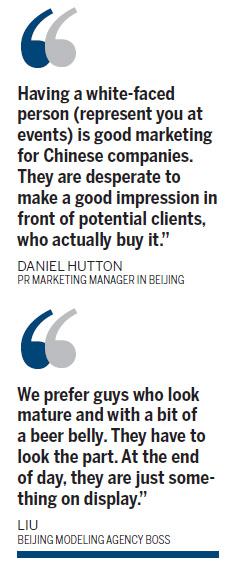 Along with the 1,000 yuan he received up front, he was also provided with a new identity - just Sam, no last name - and a set of company business cards printed in English and Chinese.
All Hutton was required to do during the meeting, which was at the Jiuhua Resort and Convention Center, near the city's Capital International Airport, was shake hands with the client's business associates, nod quietly when the boss said anything and smile.
"My boss's partners were obviously impressed to see me there, although I didn't understand what they were talking about," said the American. "Each of them even took picture with me, one by one."
With the contract quickly secured, Hutton joined staff from both companies - about 10 people - for a luxurious banquet before retiring to his free room at a four-star hotel. He received another 1,000 yuan from his client after seeing off the Henan delegates at the airport the next morning.
"It was mission accomplished," said Hutton as he later recalled the experience of earning one-fifth his monthly salary in just a day and with very little effort. "I was told I did a good job."
Although a profitable exercise, he insisted it was a one-off experiment that had left him uneasy about the ethics of such a practice.
"Such a marketing strategy is great but I still think it's fraud," he said. "The company will definitely lose all credibility if a partner or client finds out what they have done.
"It's not a case of laowai trying to fool Chinese, though. This is Chinese trying to fool Chinese," he added.
A survey of 482 netizens by chinadaily.com.cn found that more than 45 percent said they would never agree to be "window dressing" for a Chinese company because they feel it is fraudulent. About one-third said they would do it because it requires no skill, while the rest admitted they would consider it if the money was good.
Facing the facts
Sociologists suggest the Chinese concept of "face" - a positive public image - is largely to blame for the growing use of bairen chong menmian.
"Face, we say in China, is more important than life itself," Zhang Haihua, author of Think Like Chinese, recently said in an interview with CNN. "Because Western countries are so developed, (Chinese) people think they are better off. So they think that if a company can hire foreigners, it must have a lot of money and have very important connections overseas.
"That's why when (a company) really wants to impress someone, they roll out a foreigner," she said.
Business experts say the technique works at its best in less developed areas, where seeing or talking with laowai is still something to boast about.
"I don't like the word 'rent'. You can only rent goods, not people," said an employee named Fang with a Canada-based international energy corporation.
"We hired some foreigners on short-term contracts to represent our company and do jobs that are not worth sending our high-ranking managers to fly all the way from Canada for, such as giving speeches or cutting ribbons at ground-breaking ceremonies.
"They are not just any foreigners, they know our business," he insisted. "The reason we do that is to cut travel expanses and to let our managers do more important things."
Fang added he does not feel laowai are superior to Chinese and believes that the nation's "love affair with white faces" will disappear as it becomes more diverse and "internationalized".
"All those Chinese companies that hire random foreigners as a temporary facelift are fraudsters and so are the laowai who play the parts," he said.
Central authorities announced in May it intends to draft China's first immigration law following a surge in expats looking to take advantage of the booming economy in the world's most populous nation.
The law is likely to divide potential immigrants into categories, such as skilled or unskilled workers.
In the meantime, the trend of using "window dressing" looks far from dying out soon, said agency boss Liu.
"Where there is demand there is supply," he said. "Many foreigners come to China with no plan or real expertise, except being a native English speaker. Being the window dressing is perfect for them and for my clients."