"You need to be a Caucasian male, look professional and mature but not too handsome, otherwise people might think you're an actor," said the male voice on the end of the line.
Daniel Hutton, an American marketing manager in Beijing, had called the number after being told by friends about an agency that pays foreigners to "rent their white faces" to Chinese companies.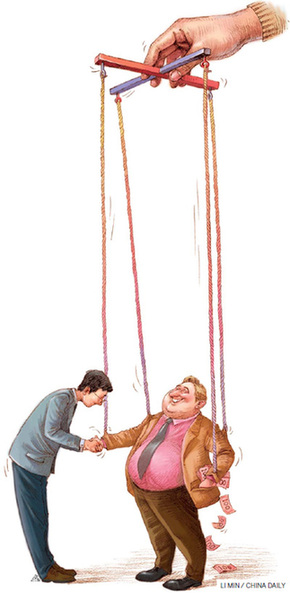 In fact, it is one of many now exploiting a thriving trend known as bairen chong menmian, or "white guy window dressing".
These job agencies offer white- and dark-skinned clients from Europe, North America, Australia and Africa to Chinese business owners, who hire them to pose as employees or partners at important meetings with dignitaries or potential investors.
The only qualification they need is to be a laowai, the Mandarin word for foreigner.
Firms have been using the ethically-questionable technique for some time to boost credibility or present an image of being internationally connected, according to experts in the world of business, yet it has only hit the headlines in China in recent months.
After hearing about the trend, Hutton, who has worked for an international public relations company in the capital for 18 months, said he was intrigued and decided to find out who actually benefits from a practice that many people argue is little more than fraud.
Posing as a student of Chinese, he got an interview with a modeling agency in Beijing's central business district and invited a China Daily reporter to come along.
"Having a white-faced person (represent you at events) is good marketing for Chinese companies," said the 29-year-old. "They are desperate to make a good impression in front of potential clients, who actually buy it."
And China is not the only country where this is going on, said Hutton, whose company has branches across Asia. The use of foreign faces to gain an advantage over rivals is reportedly popular in South Korea, Japan, Thailand and Vietnam.
Model workers
Dressed in a black, tailor-made suit, Hutton arrived for his interview in a Soho office block to find four equally well-fitted laowai already waiting.
"Looks like we're really in demand, so fingers crossed," he joked as he sat down to take his place in the queue. Thirty minutes later, he walked out of the meeting room with a big smile on his face. He had been told he fit the bill for "window dressing" perfectly.

"(My interviewers) looked at my resume and were happy with my major at university, which is marketing, but they said I wouldn't be using any of it," said the American.
"I don't need to be a professional, I just need to look like one," he added. "I need to remember my lines, just like an actor."
In the meeting, Hutton learned that he would earn on average 300 yuan ($45) an hour or 1,500 yuan for a day, each time in cash. Contracts were only signed for individual events, he was told.
Of the five people interviewed that afternoon, only two of them were hired: Hutton and a man in his 40s. The others were rejected because they looked "too student-like", according to Liu, the agency's manager, who spoke to China Daily on the condition his full name and company would not be identified.
"We prefer guys who look mature and with a bit of a beer belly," he said. "They have to look the part. At the end of day, they are just something on display."
Liu explained that he opened the agency five years ago to provide foreign models for fashion shows and photo shoots. However, it was not long before he began receiving calls from clients wanting models to pose as employees to impress their business contacts.
"It's been going on for years and my clients are getting pickier and pickier," he said. "They don't want good-looking models with perfect bodies anymore because people doubt they really work for them."
Today, about 30 percent of the business Liu receives is from companies looking for "white guy window dressing".
"It obviously works for them, otherwise the number of clients I get wouldn't increase every year like it is doing," he said. "Most of them hear about me through word of mouth. I don't advertise this side of my business."
Most of the laowai models on the agency's books are English language teachers looking for extra cash or are unemployed, added Liu.