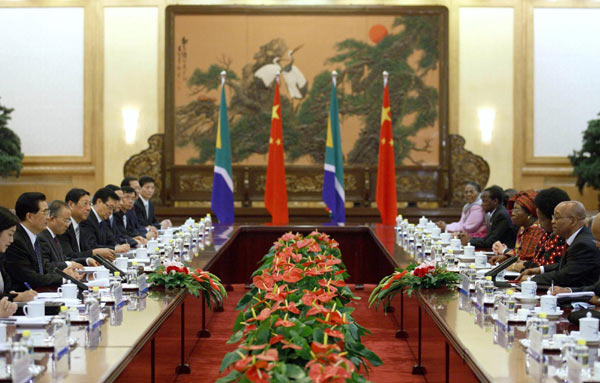 South African President Jacob Zuma (R) meets with Chinese President Hu Jintao (2nd L) in Beijing August 24, 2010. [Photo/Agencies] 
Slide
BEIJING - China and South Africa on Tuesday announced a "comprehensive strategic partnership" as South African President Jacob Zuma made his first state visit to China.

Chinese President Hu Jintao and Zuma signed the Beijing Declaration after their one-hour talks in the Great Hall of the People Tuesday afternoon.

The declaration outlined 38 bilateral cooperation agreements, ranging from political dialogues, trade, investment, mineral exploration and agriculture to joint efforts in the global arena, such as in the United Nations and the Forum on China-Africa Cooperation.

According to the declaration, the two sides expressed the desire to further strengthen and deepen friendly exchange and cooperation between the two nations in both political and regional affairs by establishing a comprehensive strategic partnership based on equality, mutual benefit and common development.

The presidents agreed to maintain frequent contact in order to enhance mutual understanding of and support for each other's positions and interests.

The two countries' vice presidents will co-chair Bi-National Commission plenary sessions every two years to guide and coordinate exchange and cooperation on political and economic matters of mutual interest in the bilateral and multilateral spheres.

The declaration says an annual strategic dialogue at the ministerial level between China's Ministry of Foreign Affairs and South Africa's Department of International Relations and Cooperation will be held.

In area of economics, the two sides agreed to improve the current structure of trade between the two countries, in particular by working towards more balanced trade profiles and encouraging trade in manufactured value-added products.

In this regard, the two sides agreed to increase trade and investment missions and to establish a joint work group to study statistical discrepancies in the area of bilateral trade.

"China, in this spirit, will encourage its enterprises to increase investment in South Africa's manufacturing industry and promote the creation of value-adding activities in close proximity to the source of raw materials," says the declaration.

Both sides agreed to provide mutual technical support in the areas of green economy, skills development and industrial financing.

Both sides also agreed to encourage companies from both nations to explore cooperative opportunities in infrastructure construction projects, such as roads, railways, ports, power generation, airports and housing.
The two nations will create conditions to facilitate practical cooperation between Chinese and South African energy companies while also considering third-party involvement in energy, electricity, nuclear energy, energy efficiency and energy infrastructure projects.

The two sides will also strengthen and expand cooperation in such areas as defense, cultural exchange, education, health, aquaculture, agriculture, transportation, civil aviation, science and technology, mineral resources, information communications, tourism and personnel exchange sectors.

In international and regional affairs, the two sides support reform of the UN Security Council, says the declaration. The two sides also give priority to increasing the representation of developing countries, especially African countries, adds the declaration.

The declaration also emphasized the need to promote economic development through development financing, fair trade, global economic governance and the reform of the international financial system, to support developing countries.

The two sides will also actively discuss the establishment of a partnership to address climate change and consolidate and strengthen dialogue on climate change.

South Africa expressed its appreciation for China's contribution to the promotion of peace and socio-economic development in Africa.

South Africa also reiterated its adherence to the one-China policy and its support for the peaceful development of cross-Taiwan Straits relations and the cause of China's national reunification.

Zuma's visit to China was his first to China since he became the South African president in May 2009. The visit is the last leg of his tour of the BRIC countries -- Brazil, Russia, India and China.