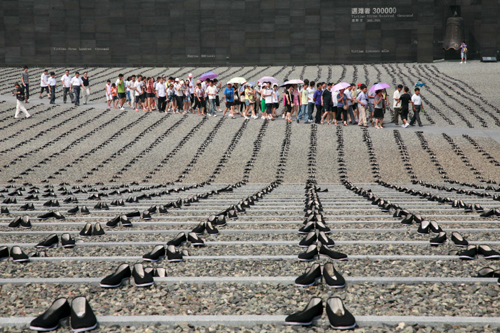 Visitors to the Memorial Hall of the Victims in Nanjing Massacre by Japanese Invaders on Sunday marvel at 6,830 pairs of shoes outside the hall. The number symbolizes 6,830 Chinese forced laborers who died in Japan between 1943 and 1945. [China Daily]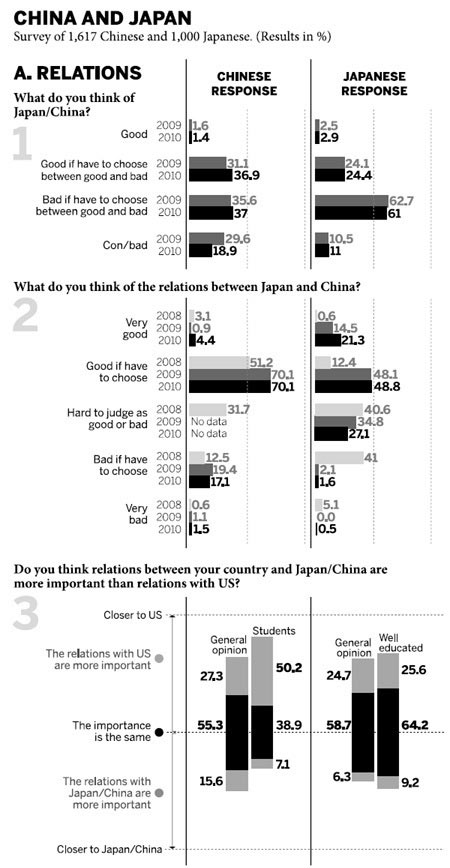 BEIJING - The Chinese public is more willing to look toward the future rather than the past as the relationship between China and Japan gradually improves, a new survey suggests.
The change can be attributed to an increase in civil communications between young people and in the media, said Wu Yin, vice-president of the Horizon Survey.
The survey on China-Japan relations was jointly sponsored by China Daily and Genron NPO, a Japanese think tank.
For the first time in the annual survey, the Nanjing Massacre was not the most common first impression Chinese people had when Japan was mentioned, being replaced this year by "electronic appliances".
Gao Hong, deputy head of Japan studies at the Chinese Academy of Social Sciences, said the Chinese public has a better opinion about its Asian neighbor mainly because the new Japanese leadership has pledged not to visit the Yasukuni Shrine, where 12 Japanese war criminals from World War II are enshrined.
Former Japanese prime minister Junichiro Koizumi visited the controversial shrine every year during his term from 2001 to 2006.
Akio Takahara, a professor with the University of Tokyo, said history remains a sensitive issue for the Chinese.
However, since the common interests between the two nations are growing and as cultural exchanges expand through increased contact and communication, the two countries can put aside historical issues, Takahara said.
"It is interesting that the Chinese are more optimistic about the future bilateral relationship than the Japanese," Takahara said.
About 75 percent of the Chinese public is satisfied with the current relationship and 60 percent pin high hopes on the future, while about 40 percent of the Japanese feel the same way.
Conducted every year for six years now, the survey focused on citizens, students and intellectuals. In China, 1,617 citizens from five major cities and 1,007 university students were polled. In Japan, 1,000 ordinary citizens and 500 intellectuals took part.
Historical issues, territorial disputes and the lack of mutual trust remain the three major obstacles to improving relations, the survey found.
Non-governmental exchanges were regarded by most people from both countries as an important way to improve relations, said the survey.
Zhou Wa contributed to this story.