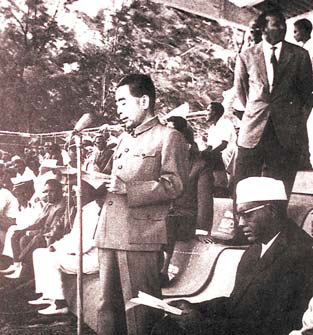 Premier Zhou Enlai announced China's eight principles of foreign aid at a 1964 people's congress in Somalia, part of his travels to African countries. CNS
In late 1963, late Chinese Premier Zhou Enlai's left on a visit to African countries that began a new chapter in China-Africa relations.
During this visit, Zhou proposed eight principles to govern China's foreign economic and technical assistance in early 1964.
The principles include:
China always bases itself on the principle of equality and mutual benefit in providing aid to other nations.
China never attaches any conditions or asks for any privileges.
China helps lighten the burden of recipient countries as much as possible.
China aims at helping recipient countries to gradually achieve self reliance and independent development.
China strives to develop aid projects that require less investment but yield quicker results.
China provides the best-quality equipment and materials of its own manufacture.
In providing technical assistance, China shall see to it that the personnel of the recipient country fully master such techniques.
The Chinese experts are not allowed to make any special demands or enjoy any special amenities.
China Daily
(China Daily 08/13/2010 page5)