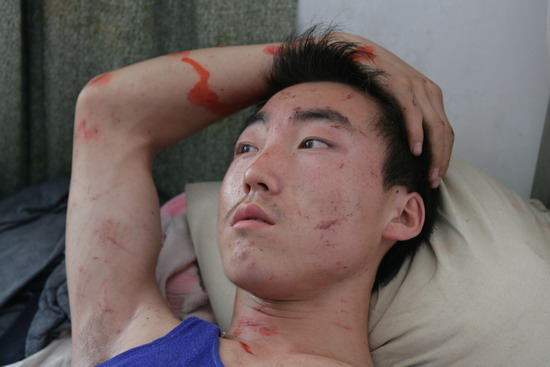 Yang Jiangjie, who lost his family in the landslide that hit Gansu province's Zhouqu county on Sunday, rests in a ward of the Zhouqu County Hospital on Monday, August 9, 2010. [DU LIANYI / CHINA DAILY]
ZHOUQU, Gansu - Yang Jiangjie was standing hand in hand with his grandfather and parents on the rooftop of their two-story brick house, helplessly watching a wave of mud and rocks inching closer.
"Whatever happens, don't get separated. Don't leave hands," Yang yelled, moments before the country's worst mudslides in six decades swallowed his family, pushing them away in different directions.
Related readings:


 Anguish and hope as rescue lasts into third day


 Vice Premier urges rescue efforts in Zhouqu


 Search and rescue work continues in Zhouqu


 Rescue, relief work under way
"Mud and rocks slammed my parents and grandfather in the face and buried them," Yang, 20, said as he wiped the tears off his face.
Yang is currently lodged in the Zhouqu County Hospital. His right foot, which was squeezed under a heavy rock, is swollen and there are dark red scratches all over his body.
Some 10 victims of the landslide, including a 3-year-old boy, lay beside him.
At 11 pm on Sunday, as disaster struck Gansu province's Zhouqu county, Yang and his family were about to hit the bed when they heard their neighbors scream: "There is a flood approaching run!"
As soon as Yang opened the front door of the house, the mudslide submerged the first floor, forcing the family to trudge up to the rooftop.
The two-story brick house collapsed with the next wave of mud and rocks, separating the family.
Yang survived because he held onto a big stone and floated through the rain-triggered landslide. But his right foot got trapped under a rock until another big wave pushed him downstream.
Yang spotted a bridge ahead in the darkness and swam to it. He was holding on to one of the piers for some three hours before he realized the mud flood was continuing to rise. His clothes and shoes were washed away.
Yang was attempting to climb up the pier when other survivors noticed him and pulled him up with a rope.
Despite being in severe physical pain the next morning, Yang went back to where his house once stood.
"There were many people weeping on the riverbank, but I didn't know any of them," he said. "I became desperate, thinking my parents might have died already."
After wandering along the mud flood for an hour, he was spotted by a friend who immediately took him to the hospital.
Hours later, he had an unexpected visitor - Premier Wen Jiabao.
Premier Wen heard Yang as he narrated his tale and told him to live on bravely.
"My eyes were closed. But I could still hear the mudslide roaring," Yang told Wen.
Yang has lived in Zhouqu since birth and the furthest he's ever been is to a town 20 km away, where his relatives live.
"Only in this place can I feel home," he said.
Before the disaster flattened the county, Yang was enjoying his summer vacation and had already started preparing for senior high school. As one of the top students of his class, going to college was not really a farfetched dream.
But with his house gone and his family still "missing", Yang said, "Living here will be very tough."
Just then, his uncle and brother rushed into the ward and told him his mother's body was dug out from the debris an hour ago. They told him that they had covered her body with a sheet and placed it on the riverside. There was still no news of his father and grandfather.
Yang stopped talking. He covered his face with his hands and began crying, endlessly.