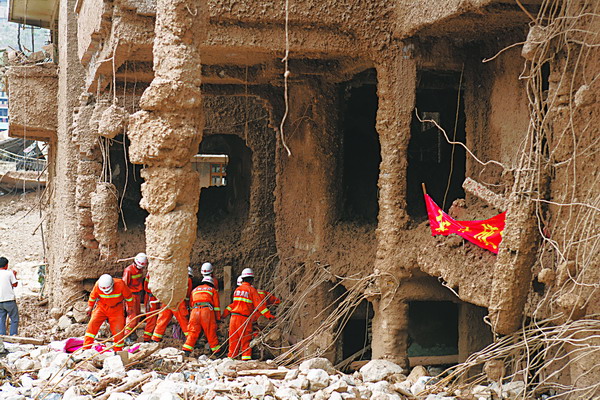 Rescue workers search in a mudslide-destroyed building for survivors and victims' bodies in Zhouqu county on August 9, 2010. [DU LIANYI / CHINA DAILY]
ZHOUQU, Gansu - More than 40 hours after his mother's home was obliterated by a massive mudslide, Xu Tenphel refused to leave the rubble.
"I'll stay here until her body is found," said Xu, 45.
Xu, a Tibetan, hopes to take his mother's body home for burial in accordance with the Tibetan funeral custom.
Related readings:


 More supplies, rescue teams sent to Zhouqu


 Landslide claims 137 in NW China's Gansu


 Villager survives Gansu's landslide disaster


 Frantic search for signs of life after landslide
After the mudslide flattened Zhouqu county early on Sunday in the Gannan Tibetan autonomous prefecture of Gansu province, Xu traveled nearly 20 kilometers from the village of Legwa to search for his mother.
The old woman's home in Beijie village near the county seat had disappeared in the landslide and Xu was certain she was buried in the rubble.
Rescue workers, including soldiers from the People's Liberation Army and Armed Police officers who had been involved in the rescue operation after the devastating Wenchuan earthquake in May 2008, continued to search the debris on Monday, looking for signs of life.
Xu and 40 Tibetan villagers from Legwa joined the search, encouraged by the rescue of a 71-year-old woman on Monday morning in neighboring Dongjie village.
"Nearly every family has sent a young man to join the rescue," said Guo Tsering, 57, whose wife is missing.
Women wearing Tibetan attire took food and water to the rescue teams and said silent prayers for the victims while they occasionally wiped tears from their eyes.
The rescue operation was in full swing on Monday, but the outcome was disappointing. In Beijie village alone, at least 25 bodies were recovered by morning.
"We used 40 packs of disinfectant within three hours," said Yang Yuqiong, a doctor at a local clinic. "We encouraged people to cremate the bodies of their deceased family members as soon as possible, but many people want to keep the old custom of burial."
Yang and her colleagues are worried about an outbreak of disease in the devastated area, where the ground temperature reached 35 C on Monday.
Meanwhile, at the center of the county where a large number of apartment buildings were torn down, 20-year-old Zhong Zhengwei, a firefighter from the Aba Tibetan autonomous prefecture of Sichuan province, was using his hands to dig through the debris.
He said his job was to find and dig out the remains of those buried in the debris and send them to a center for disinfection.
"I'm not afraid of bodies," Zhang said as he carried a female body on an unattached door with four other firemen whose hands were bleeding.
At the scene of the disaster, China Daily reporters saw at least seven bodies wrapped in old bed sheets and there was a strong stench in the air.
In Yueyuan village, 90 percent of its 500 residents from 90 families died in the rain-triggered disaster, said Fang Jianjun, deputy head of Chengguan township government under Zhouqu county.
Torrential rain on Saturday night caused an avalanche of sludge and debris to crash down on Zhouqu county, ripping houses off their foundations and tearing six-story apartment buildings in half.
Yueyuan village, which sits at the foot of craggy mountains, was reduced to a mass of yellow slush and debris, without a single structure left intact.
"It was not raining very heavily in the county seat on Saturday night. We didn't know that the torrents were crashing down from the mountains," said He Xinchao, a survivor. "Before I realized what was happening, the house was gone."
His 11-member family was reduced to two. "Just me and my son," he said.
Many survivors sat helplessly on the ground, watching the rescue work and praying for miracles.
Some rescue workers claimed they detected signs of life - cell phone rings and, occasionally, faint cries for help.
Young loving hearts
Two girls stood near a shelter for survivors and handed out cups of spring water to passers-by.
"There's no drinking water around, so we carried water from the mountains," said Yan Xiyun.
Yan, 13, and her friend, Wang Yongxia, 8, trudged for 30 minutes to carry the pails of water from the mountains. They had been to fetch water at least five times since Sunday night.
Not everyone accepted their offer - some were too busy, while others were too immersed in grief.
"But it's very touching to see these young girls' gesture of love and care," said a police officer who was assisting the rescue operation.
Xinhua - China Daily