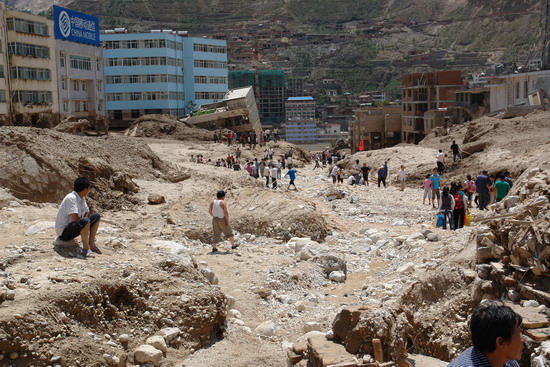 A landslide sweeps through Zhouqu county seat in Gansu province on Sunday morning. [PHOTOS BY GONG ZHISHUI / XINHUA]
Latest: ZHOUQU - The death toll from rain-triggered mudslides in Zhouqu County of Northwest China's Gansu province has risen to 137 as of 4:07 pm Monday, with 1,348 others still missing, said the provincial civil affairs department.
ZHOUQU, Gansu - A rain-triggered landslide hit Zhouqu county in Gansu province on Sunday morning, killing at least 127 people and leaving 1,294 others missing, the rescue headquarters said on Sunday.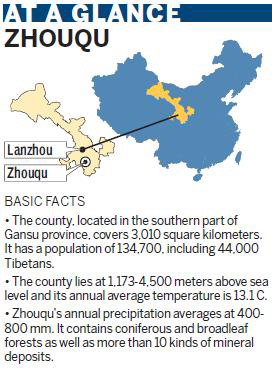 At least 76 people were injured as of 4 pm on Sunday and rescuers were racing against time to dig out survivors from crushed homes, the Ministry of Civil Affairs said.
Torrential rain began lashing the county at about 11 pm on Saturday and runoff from the downpour built up behind a landslide on the Bailong River, which runs through the county seat town.
The clogged river in the narrow valley spilled over its banks, triggering floods and mudslides that hit the town after midnight. The disaster smashed a small hydro station and left more than 100 people dead, Xinhua News Agency reported.
The landslide flattened an area 5 kilometers long and 500 meters wide. "Most of the 2,000 people living in the area failed to escape in time and were drawn into the mud," authorities from the Gannan Tibetan autonomous prefecture, which administers Zhouqu, said in a statement on its website.
At one point, the flood inundated about half of the county seat, which has about 40,000 residents. The floodwaters reportedly reached up to three stories high on some buildings. 
Pu Junli, a military official who led rescue efforts, told China Central Television the sludge was "too massive, mostly as thick as one meter".
Rescuers from local governments and military bases have been arriving at affected areas since Sunday morning and local rescue headquarters deployed more than 1,000 workers to search for the missing.
The PLA Lanzhou Military Area Command has also sent medical teams and 2,800 soldiers to the county.
Similarly, the Ministry of Public Security on Sunday activated its emergency response mechanism to organize about 1,000 firefighters and special police in nearby areas to head for the affected area to rescue victims, the ministry posted on its website.
More than 680 residents had been rescued by noon and the water level in the county seat of Chengguan township had started to retreat, said Mao Shengwu, head of the prefecture.
About 45,000 people had been evacuated as of 4 pm, the provincial civil affairs department said.
Temporary shelters were set up at two middle schools to house the victims. By 3 pm, the provincial civil affairs department had provided 3,900 tents, 40,000 packs of instant noodles and 31,300 boxes of bottled water to the county.