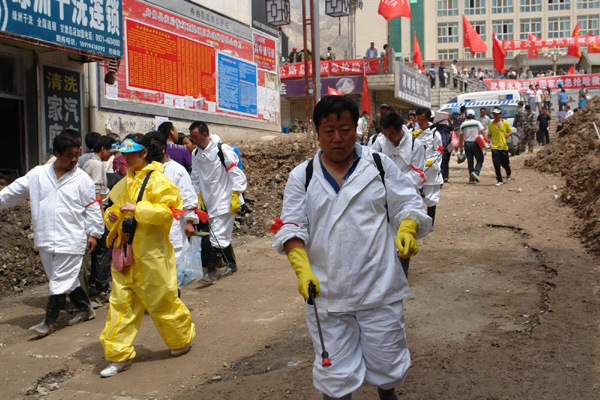 Medical workers sterilize the landslide-hit community in Zhouqu County, northwest China's Gansu Province, Aug. 10, 2010. Soldiers and local anti-epidemic professionals began to sterilize the mudslides-hit area on Tuesday. [Xinhua] 
ZHOUQU, Gansu - Insufficient drinking water and toilets, weak infrastructure and crowded living conditions are increasing the possibility of an outbreak of infectious diseases after a major mudslide in this Northwest county early Sunday morning.
"If we cannot guarantee safe drinking water and a healthy living environment, it is highly risky for infectious disease to occur," Yang Jian, a senior official with the Chinese Center for Disease Control and Prevention, which is now helping with the rescue and relief work in Zhouqu, told China Daily on Tuesday.
Related readings:


 Medical relief work in full swing in Zhouqu


 Mudslide survivors receive timely relief materials


 Rescue, relief work under way


 Relief materials pouring into mudslide-hit county
Several cases of intestinal infections have been reported, he said.
Water is most crucial for epidemic control at the moment, and it appears that the water in Zhouqu is unsafe for health, although the final test result is on its way, he said.
In a temporary medical center in Zhouqu No 1 Middle School, several children and some adults suffered from diarrhea on Tuesday, said Yang Long, a 45-year-old doctor who is in charge of the center.
"Unhealthy drinking water and food mainly caused the disease and we need more medicine," Yang said.
Besides safe water and food supplies, healthy habits are very important to prevent sickness, Yang said.
Bai Jinyi, director of a disinfection team in Zhouqu, said the amount of garbage is increasing rapidly because of the damage and the continual resettlement of affected residents.
"It (garbage) is bad for health and victims are often going back and forth to their shattered homes to look for valuable things, which also increases the possibility of them getting sick," Bai said.
Yang Haifeng, a 42-year-old surgeon in the temporary medical center, said people must pay much attention to safe drinking and eating, and wash their hands frequently.
Due to the high temperature in Zhouqu, food easily becomes rotten and water must be boiled before drinking, he said.