ZHOUQU, Gansu - Rescuers searching for survivors in a mudslide-flattened Northwest China county were spurred on Monday when a 74-year-old woman was pulled alive from the debris and rubble.
The woman, named Yang Jinfeng, was rescued at 9:50 am from a half-destroyed building in the county seat of Zhouqu, Gannan Tibetan autonomous prefecture in Gansu province, 34 hours after a massive mudslide swept through the county, a spokesman with the emergency rescue headquarters said.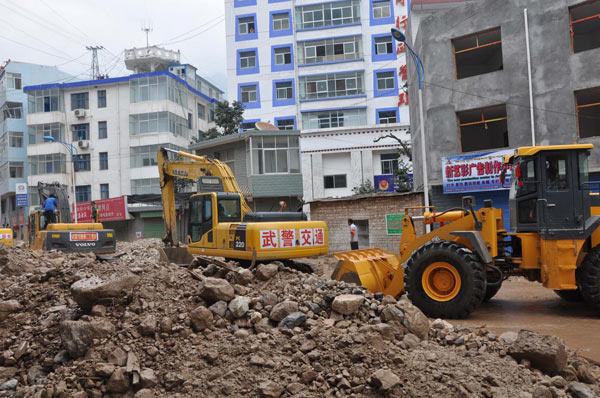 Excavators work at the rush repair site of a road in Zhouqu county of Gannan Tibetan autonomous prefecture, Northwest China's Gansu province, Aug 9, 2010. Some 100 soldiers and more than 30 engineering equipments were sent to take part in the rush repair work of roads damaged by rain-triggered landslides in Zhouqu county. [Xinhua]
The woman's fourth-floor apartment was flooded with sludge and water and police officers had to smash a hole in the wall to help her out of the darkened space, he said.
A China Central Television report showed her being carried out on a stretcher, her eyes covered to avoid the daylight.
Related readings:


 Rescuers search for life in mudslide-hit county

 Rescuers start blasting dam in mudslide-flattened county


 MOF offers $73m to help mudslide victims in NW China


 Relief materials pouring into mudslide-hit county
The spokesman said the woman was in a stable condition and able to talk. "But she was very weak from hunger and thirst."
She received first aid at the scene before being rushed to hospital.
In the worst-hit village of Yueyuan -- Chinese for "Full Moon Village" -- not a single structure remained intact. Thousands of police and People's Liberation Army (PLA) officers are still searching the debris for signs of life.
Forty rescuers from the Chengdu fire brigade, in the neighboring Sichuan province, veterans of the 2008 Wenchuan earthquake rescue operation, arrived at Zhouqu Monday afternoon with 11 life detectors and three sniffer dogs.
"We've found signs of life in the rubble near a temple," said Liu Junfeng, chief of staff of the Chengdu brigade. "It came from about two meters under the ruins."
Liu and his colleagues had stepped up the searching to within 4 square meters.
"Don't give up. A family of nine are buried here," an officer shouted as another team of 10 soldiers tried to lever up what was once a roof beam.
Torrential rain late Saturday night sent massive waves and an avalanche of sludge and debris crashing down on the county, ripping houses from their foundations and tearing six-story apartment buildings in half.
The village, which sits at the foot of the craggy mountains, was reduced to a mess of yellow slush and debris.
"It was not raining very heavily in the county seat, but torrents were crashing down from the mountains," said He Xinchao, a survivor. "Before I realized what was happening, the house was gone."
His 11-member family was reduced to two. "Just me and my son," he said.
Many survivors sat helplessly on the ground, watching the rescuers' work and praying for miracles. Some desperately dug with their bare hands.
"That used to be my home," said 36-year-old Zhao Xinquan, whose two-story home was torn down and five people were buried.
"I hope I can at least find their bodies, so that they can rest in peace," Zhao said as he wiped away tears.
"We have heard signs of life, cell phones ringing and faint cries for help," said Xu Jiaming, who was commanding 500 soldiers from the Lanzhou Military Area Command.
Late Sunday, Xu and his troops saved a woman who miraculously survived in a cleft formed by a collapsed building.
By Sunday night, the mudslide had killed 127 people and injured 88. An estimated 1,294 people are missing.
The local government said at least 307 homes were torn down.
Meanwhile, personnel from PLA's Lanzhou Military Area Command used explosives to blast a blockage in the Bailong River, upstream from the affected area, at 8:18 am in a desperate operation to prevent further flooding.
Armed police officers were then able to demolish the barrier with excavators, allowing water from a lake to drain at 95 cubic meters per second, he said.
More explosions were carried out at 9:34 am and at 10:20 am.
Donations of cash and relief supplies were pouring into the county Monday. The provincial Red Cross said it had received more than 3.2 million yuan of cash donations as of 1:30 pm Monday.
The county was still in dire need of food and drinking water, as the local water supply system was destroyed by the mudslide, cutting supplies to more than 40,000 people.
"Some relief supplies have arrived, but distribution is very slow, as all roads were covered by flood water or rubble and we can only rely on manual labor to carry supplies into town," said Fang Xiaodong, deputy chief of the county.
Zhouqu county, about 650 km from the provincial capital Lanzhou, sits in the Bailong River valley and is hemmed in by craggy mountains on both sides. The county has a population of 134,700, about 33 percent of whom are Tibetans.
Geologists with the Ministry of Land and Resources have blamed the county's geological structure for the mudslide, saying its loose, seriously weathered terrain is prone to landslides and other disasters.
The massive earthquake of 2008 that shook the mountains around Zhouqu worsened the situation.
The geologists also pointed to sustained drought and soil erosion in the region since last winter, though the immediate cause of the tragedy was torrential rain that lasted more than 40 minutes and deposited at least 90 mm Sunday night.