BEIJING - Government organizations and charities have been rushing tents, drinking water and other relief supplies to local residents after rain-triggered landslides hit a Northwest China county early Sunday morning.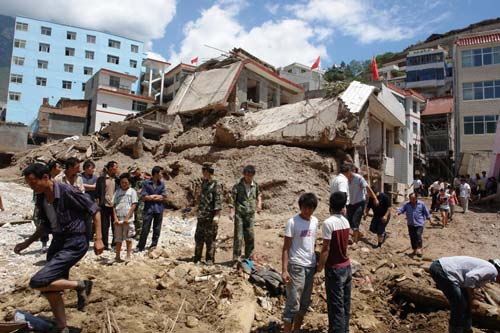 Rescuers search for survivors on the debris after a landslide in Zhouqu county, Gannan Tibetan autonomous prefecture in Gansu province, August 8, 2010. 28 trapped people had been rescued as of 19:30 on Sunday. [Photo/Xinhua]
Latest figures from the Gansu provincial department of civil affairs show that 3,090 tents, 1,300 cotton quilts, 16,370 cartons of bottled water, along with instant noodles and cakes have arrived in Zhouqu county, Gannan Tibetan autonomous prefecture in Gansu province.
Also, 200 generators, 100,000 candles and 10,000 flashlights are scheduled to arrive by mid-Monday, said the department.
Related readings:


 City donates 2m yuan to mudslide-hit NW China


 127 dead in rain-triggered landslides in NW China


 Landslides hit NW China, at least 65 dead
A total of 5,000 tents, 20,000 cotton coats, 8,000 folding beds and 5,000 sleeping bags from the Ministry of Civil Affairs are en route to Zhouqu, and are due to arrive Monday morning.
At least 127 people have been confirmed dead in the mudslides, while rescuers are racing against the clock to search for nearly 1,300 who are reported missing.
The ministry and the Ministry of Railways have jointly launched an emergency system giving priority to rescue and relief transportation.
The Red Cross Society of China (RCSC) had sent emergency relief worth 320,000 yuan ($47,000) to aid the relief work by its local branch.
According to the society, these relief materials contain 2,000 cotton quilts and 400 family aid kits, which include clothes, tableware and thin quilts.
Meanwhile, the Gansu provincial branch of the RCSC has prepared to distribute 500 cotton quilts, 2,000 bags of instant food, 1,000 cartons of bottled drinking water and 2,000 blankets.
The Ministry of Health has sent a team of 13 experts to the area to supervise the local medical and epidemic prevention work.
Four medical teams consisting of 180 members have also been sent from Gansu and neighboring provinces of Shaanxi and Sichuan, said the ministry.