Zhouqu, Gansu - After a 10-hour arduous journey on stone-paved roads, two of my colleagues and I arrived at the landslide-hit county of Zhouqu at about 7:30 pm.
Related readings:


 Premier Wen flies to landslide-hit area


 Death toll from northwest China landslide hits seven


 6 killed as landslide sweeps pickup truck


 21 missing after landslide hits SW China villages
I was among the first batch of reporters to arrive at the scene as I came directly from Dongxiang county in Gansu province, where I had been staying for the past few days for another interview.
Entering Zhouqu, we walked against the flow of people trying to get out.
Some, supported by others, were injured; some took a few possessions they managed to retrieve from their buried homes - a piece of quilt or an iron pan.
Others were sitting along the road expressionless, watching the floods and mud.
Some carried pieces of wooden boards, on which lay the bodies of their beloved, clad in bed sheets. They lost almost everything, but their lives.
When I walked deep into the county, I found myself surrounded by more and more people, not only the affected residents, but also by rescuers who were pouring in.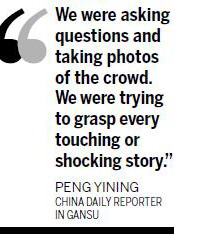 Armed Police officers were running with mud on their shoes and shovels in their hands. Some of them were very tired, because they had searching for the missing and saving lives since dawn. With no heavy equipment around, they could rely only on their hands.
We were asking questions and taking photos of the crowd. We were trying to grasp every touching or shocking story.
Finally, we lost each other in the crowd. I had no time to look for them, but rushed to a hospital where I was surrounded by cries of pain.
I talked to parents who lost their sons and daughters, elderly men whose homes had been flattened and medical staff exhausted after almost 24 hours of continuous work.
Many of the medical staff had also lost contact with family members.
I begged a doctor to let us have a small office where we could write our stories and spend the night. She agreed.
After two hours, I was reunited with my colleagues. Mud stuck to their shoes, ankles and pants.
They told me they saw two family members, who had lost contact with each other since Saturday night, burst into loud cries when they were reunited. The only thing they said was "Our home is gone!"
My colleagues told me they talked to rescuers and saw bodies being dug out from the mud.
"You can just tell it is a person, as the body was covered in thick mud," one of my colleague said.
"One of his or her arms was still stretched upwards, in a position asking for help."
A long silence followed the sentence.