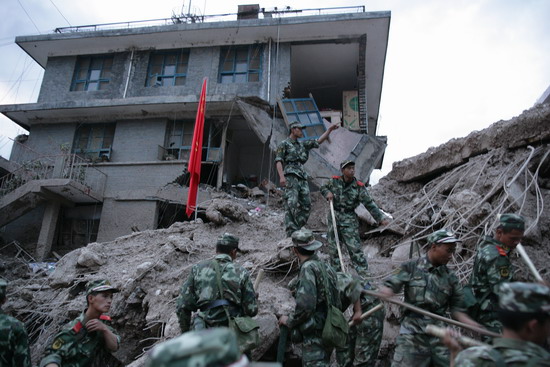 Armed Police officers search through rubble on Sunday to look for survivors of a landslide triggered by floods in Zhouqu county, Gansu province. Thousands of soldiers, Armed Police officers and firefighters have rushed to the area to help the rescue operation. [DU LIANYI / CHINA DAILY]
ZHOUQU, Gansu - He Xinchao, 44, a father and head of Yueyuan village of Zhouqu county, survived the devastating landslide that killed at least 127 people around midnight on Saturday in Zhouqu in the Gannan Tibetan autonomous prefecture of Northwest China's Gansu province.
He was saved by rescue workers on Sunday morning, with his clothes torn off by the mudslide. His legs were also seriously bruised and his pelvic bone fractured by the impact of the collision.
Related readings:


 Wen inspects landslide-hit county in NW China


 6 killed as landslide sweeps pickup truck


 3 confirmed dead, 8 still missing in SW China landslide


 Death toll from northwest China landslide hits seven
Fortunately, his son suffered only minor scratches after having been protected by his father.
Nine other members of his family are still missing.
He told China Daily how he survived and saved his three-year-old son's life by clinging to a pole:
"That night, I went to the door to check what had happened after I heard a strong wind and unusual rumbling.
"As soon as I opened the door, mud squeezed in. I immediately realized that it was a landslide and the sounds were those of houses collapsing.
"I ran back to warn my family of 11 and grabbed my son. In just seconds, a wall of my house fell down and we were washed to different places by the mud.
"I then found a pole, which I grabbed on to with one hand, while I held my son, who was on my shoulders, with the other.
"For the entire night, water and mud kept rising, covering my chest and edging up to my neck.
"All I thought about was holding my son tight and clinging to the pole. The sky then grew even darker and I finally fell unconscious."
After being saved by rescue workers, he was admitted on Sunday to a local hospital, which received 70 survivors who were injured in the landslide.
Peng Wei, chief of the fire station in Zhouqu county, said he heard a roaring sound when the mudslide suddenly occurred.
"I heard an uproar outside 11:30 pm. I then received an alarming call, saying that a landslide hit the county and someone was trapped in a house," he told State broadcaster CCTV.
Peng, who lived on the fourth floor of his building, said that when he and his wife dashed down to the ground floor, the door had already been pushed open by debris from the landslide.
"There had been a power cut; not a single light could be seen in the street. I asked my wife to go back upstairs and I went to help other neighbors evacuate to safety," he said.
By Sunday morning, all of the buildings along the county's two gorges had been destroyed, half of Zhouqu had been covered in mud and some buildings in the town had been demolished, Peng said.
Jin Zhu contributed to this story.