BEIJING - Search giant Google Inc has embarked on a hiring spree in China, despite its recent problems with the government that saw many top engineers and executives leaving the company.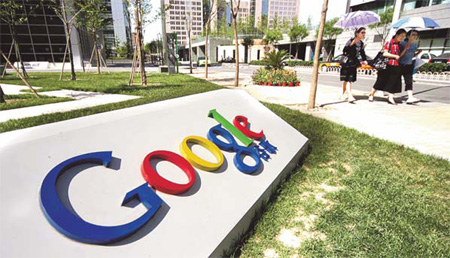 Google China's headquarters in Zhongguancun, Beijing. [Wu Changqing / for China Daily]
Experts, however, said on Friday that the recruitment drive would not help the company regain the lost market share in the short-term. Google lost ground in the Chinese search engine market to Baidu and other players, as its standoff with the government remained deadlocked.
Google intends to hire more people to bolster its existing team and said the opening will be in its research and development, product management, user experience designer, sales, operation, recruiter and marketing sections.
Related readings:


 False alarm: What's behind the Google search block report?


 Google: report of search block maybe glitch

 Baidu shines at Google's expense


 Google cuts ties with 2 Chinese advertisers

The search giant added 2,000 more employees in the first half of this year across the global and currently has staff strength of around 22,000.
The recruitment plan comes after the government renewed Google's Internet Content Provider license earlier this month. Analysts said the move is the first step by the search giant to regain market confidence in China.
"Google wants to win the confidence of its advertising agents and partners by indicating a bigger presence in China," said Cao Junbo, an analyst with research company iResearch.
But he said it remains a daunting task to regain market share, as Goggle's decision to redirect mainland users to its Hong Kong site has come at the expense of a sizable number of domestic users.
Google had in January said it would provide unfiltered results on its search site and later redirect traffic from the mainland to its Hong Kong site. The move did not go down well with its advertisers and many of them decided to reduce their advertising in the search engine.
Subsequently, Google's share of the domestic search market declined to 24.2 percent in the second quarter, from 30.9 percent earlier. During the same period Baidu's share rose to nearly 70 percent, according to domestic research company Analysys International.
"Google's future market share will depend largely on by how much it can boost its advertising and sales network," said Li Zhi from Analysys International. "It is unlikely that it will be able to erase the damage of its hasty withdrawal from the mainland market in the short term."
Many Google executives left the company after it decided to rejig its strategy in the nation. Prominent among those who left are Wang Jin, the former vice-director of Google China Engineering Research Institute and Song Zhongjie, the former general manager for sales.
Lee Kaifu, the former head of Google China, left the company in last September to set up a technology incubator called Innovation Works.