Beijing - China and Pakistan will officially start their third joint anti-terrorism exercises on Saturday, in the latest sign of the two nation's commitment to crackdown on terrorists of the East Turkistan Islamic Movement (ETIM), who are hiding along the Sino-Pakistani border.
Troops of the Special Services Group - encompassing more than 100 members from each side - together with the Chinese air force will participate in the week-long military exercises, which are being held in Qingtongxia in Northwest China's Ningxia Hui Autonomous region.
The exercises, entitled "Friendship 2010", coincides with the one-year anniversary of the deadly riot on July 5 in Xinjiang Uygur Autonomous region, which left 197 people dead and more than 1,600 injured. The Xinjiang Uygur region borders Pakistan.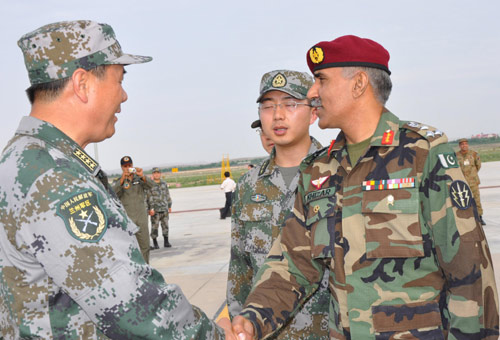 Commander Brigadier Li Fuhua of the People's Liberation Army (left) shakes hands with Brigadier General Khizar of the Pakistan Special Forces Contingent in Qingtongxia, Ningxia province. [INTER SERVICES PUBLIC RELATIONS]
The Pakistani military said in a statement that the aim of the exercises is to run counter-terrorism drills to help develop the interpersonal rapport between participants of both sides.
Ministry of National Defense spokesman Geng Yansheng has said the drills are aimed at deepening the relationship, promoting pragmatic exchanges and enhancing their capabilities in fighting terrorism and safeguarding regional peace and stability.
The exercises will benefit the professional skills of special forces at the "sub unit level."
While the joint exercises will be the third of its kind, they take on particular significance because of the timing.
The news was first announced on June 24, the same day Chinese police said it cracked a terrorist cell in Xinjiang and more than 10 members of a group headed by the ETIM were detained. The announcement was closely followed by Pakistani Army Chief General Ashfaq Parvez Kayani's visit to Beijing, during which the two countries reaffirmed their strategic and security ties.
What is more, Pakistani President Asif Ali Zardari is scheduled to visit China from July 6 to 11 for talks with President Hu Jintao and Premier Wen Jiabao.
China last month defended its nuclear cooperation with Pakistan as peaceful after the United States sought clarification from Beijing on the sale of two reactors to Islamabad.
China and Pakistan held their first-ever joint anti-terrorism exercises, "Friendship-2004," in Xinjiang's Taxkorgan Tajik Autonomous County, which borders Tajikistan, Afghanistan and Pakistan. About 200 soldiers from both sides participated.
The second joint anti-terror military drill, "Friendship-2006," was carried out in the hills of northern Pakistan's Abbottabad area. More than 400 soldiers from both armies took part.
Dong Manyuan, an anti-terror expert at the China Institute of International Studies said China now considers anti-terrorism a long-term and more regular undertaking.
"Given the current situation with the international war on terror, which is more complex and reduplicated, the drills may gradually become more normalized," he said.
Dong said there is also the possibility that the two countries might conduct joint military actions against ETIM terrorists along the China-Pakistan borders one day, as there is still room for more anti-terrorism cooperation between Beijing and Islamabad in the future.
Li Wei, a Beijing-based anti-terrorism researcher noted that besides China's northwest Xinjiang Uygur Autonomous Region, the ETIM has also made their presence felt in central-eastern China, including Henan and Shanxi provinces.
"After the July 5 riot last year, China beefed up border security checks in Xinjiang, so instead of getting out of China through that region, more ETIM terrorists are now fleeing to the southwestern parts of China and getting out of the country there," he said.
Li said another new challenge for all countries is that terrorists have turned to the Internet where they recruit and brainwash new members. "This kind of prevention is even harder to do," the researcher added.