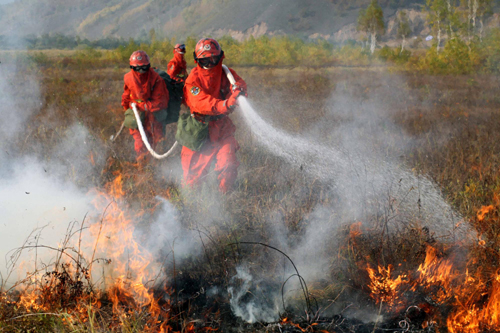 Firefighters work to extinguish a forest fire in China's far Northeast Greater Hinggan Mountains on June 28, 2010. [Photo/Xinhua] 
16,000 firemen battling forest fires in N China, 3,000 more on the way
HUZHONG, Heilongjiang -- A total of 16,000 fire fighters were battling ten remaining forest fires in north China, and 3,000 more would join them Tuesday night, said local authorities.
Seven thousand fire fighters in north China's Inner Mongolia Autonomous Region and about 9,000 in northeast China's Heilongjiang Province were fighting the fires, said Sun Xiguo, director of the fire control headquarters of Greater Hinggan Mountains.
Three thousand more people would join in the efforts in Heilongjiang Tuesday night, said Sun.
A total of 40 forest fires have occurred since June 25 in the Greater Hinggan Mountains, and all were caused by dry lightning, said Guo Wen, deputy chief of the Hulunbuir Municipal Meteorological Center.
"We have put out 30 fires as of Tuesday noon. Inner Mongolia still has four fires and Heilongjiang six fires still blazing," said Guo Weiyan, a fire fighter.
Dry lightning is when lighting occurs without precipitation and is frequently seen in the forest area of the Greater Hinggan Mountains, Guo Wen said.
The Greater Hinggan Mountains, a large timber producing base in China, is covered by more than 80,000 square kilometers of mainly pine forests.
Only forestry workers, who are participating in the fire control, live in the sparsely inhabited area. Their families have been evacuated, Sun Xiguo said.