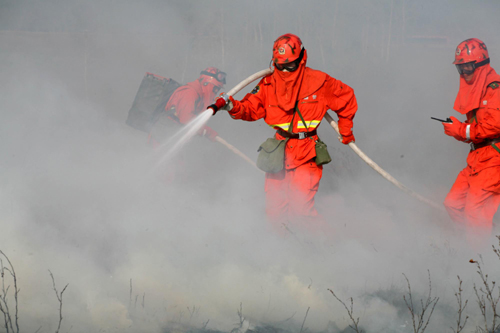 Firefighters work to extinguish a forest fire in China's far Northeast Greater Hinggan Mountains on June 28, 2010. Local authorities have dispatched over nearly 9,000 firefighters to combat the blaze. Since June 26, three fires have broken out, scattered through Heilongjiang and Inner Mongolia. [Photo/Xinhua]
Related story:
Forest fire continues to spread in NE China
A new fire was seen blazing Monday morning in a pine forest in Northeast China's Heilongjiang province, posing more difficulties for fire fighters as the previous one continued to spread.
The new blaze in Greater Hinggan Mountains in Heilongjiang province has an area of five square kilometers by 7 am, said Sun Xiguo, director of the fire control headquarters of Greater Hinggan Mountains. [More]