Qingyuan, Guangdong - Though more rains were forecast for some regions on Monday, floodwaters had receded in hard-hit South China by Sunday, and the country's disaster relief authorities lowered the emergency response from level II to IV.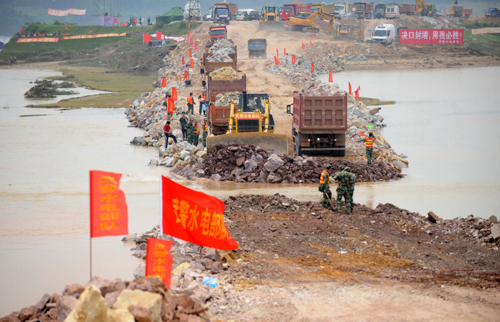 Rescue workers and paramilitary policemen speed up repair work on the breached Changkai dike in Jiangxi province on Sunday. The restoration was completed at 6:16 pm on Sunday, three days ahead of schedule. The Changkai dike was breached after days of torrential rains, forcing the evacuation of 1.32 million people. [Xinhua]
The Changkai dike that was breached after days of torrential rains in East China's Jiangxi province was repaired on Sunday following an around-the-clock repair effort by hundreds.
The 347-meter-wide breach was blocked at 6:16 pm on Sunday, three days ahead of schedule, according to the provincial flood control and drought relief headquarters.
Related readings:

 Breached dike in E China repaired


 Workers narrow dike breach in E China after 1.3m evacuated


 Chinese Premier visits flood-hit Jiangxi Province
The Fuhe River breached its banks for a second time early last Wednesday, two days after another section of the dike burst, forcing the evacuation of 1.32 million. These evacuated residents will be able to return home earlier than expected, said an official with the headquarters.
During the latest round of rains that started on Friday, 603.5 millimeters fell in Guangdong province's Huilai county over a six-hour period, setting a record in about half a millennium.
Rains and floods have claimed three lives and left two others missing in the province as of Sunday afternoon. Some 550,000 people had been affected and more than 80,000 were relocated.
A seven-hour torrential rain lasting until 4 am Saturday hit Malong county of Southwest China's Yunnan province, filling a nearby reservoir to the brim and submerging the country, with water depths of up to 1.5 meters over some roads. Rains and floods killed one and injured 165 others. Some 55,000 people were affected and 6,000 houses were destroyed in the county.
In Nanping, East China's Fujian province, rains lasted more than 10 consecutive days, affecting nearly 1.3 million people and causing economic losses of 5.5 billion yuan. A total of 365,600 people have been safely relocated, according to the local disaster control authority.
Zhang Jinhua, 42, a villager from Hongxing village of Nanping, said her floor-board processing factory that she had run for four years was ruined by debris flows.
"My factory just turned profitable last year. I planned to increase my production this year, but now I lost all I had," she said.
"All the machines would become useless even if I had rushed to grab them out then," she said while sobbing.
Her village was almost destroyed by debris flows and the disaster has killed 14, with 14 others still missing.
Zhang, together with 110 other villagers, are temporarily settled in a theater.
The country typically sustains flooding annually along the Yangtze River and other major waterways, but this year's floods have been especially devastating, killing 381 with 143 still missing as of Sunday, statistics from the authorities said.
Heavy rains and ensuing floods have affected 69.96 million people in 22 provincial-level regions and 4.453 million hectares of farmland. More than 4.66 million people had to be evacuated from their homes over the past two weeks, according to the Ministry of Civil Affairs and the Office of State Flood Control and Drought Relief Headquarters.
Floods have also caused 83.8 billion yuan ($12.33 billion) in direct economic losses.
When water receded enough on Sunday, some people returned to inspect their homes.
Efforts also focused on these provinces with crews cleaning debris from mudslides off highways and railway tracks. Local authorities were ordered to step up patrols to inspect for damage.
Heavy rains in southern areas will end this week, according to the National Meteorological Center (NMC).
Many regions, including Fujian and Guangdong provinces, are looking forward to sunny days expected to begin Monday, which means that flooding in South China is expected to ease, the NMC said in a statement on its website.