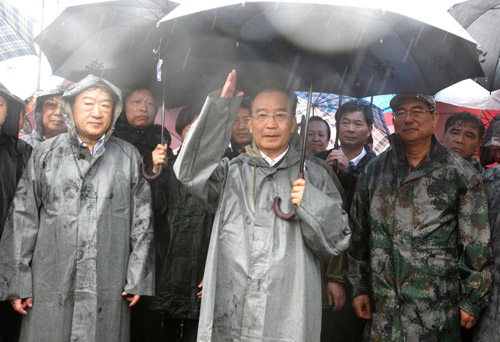 Chinese Premier Wen Jiabao gestures as he visits paramilitary policemen and rescue forces at a toll-gate of the Fuzhou-Yinchuan Express near floods-battered Fuzhou City in East China's Jiangxi Province, June 24, 2010. [Photo/Xinhua]
NANCHANG - Chinese Premier Wen Jiabao visited flood-hit Fuzhou City in the eastern province of Jiangxi on Thursday to inspect the fight against flooding and review disaster relief work.
Despite heavy rains, Wen paid visits to local residents who suffered from floods, as well as military, police and firefighting forces who worked to combat the disaster.
Wen encouraged soldiers and police at the forefront of the flood to bear in mind the people-oriented principle and continue to fight against floods without fear of sacrifices and fatigue.
Wen stopped at a village where many houses remain submerged in water. He also visited a house where a middle-aged woman was tidying things as water continued flowing inside.
Knowing that the woman's family members were all safe, Wen said, "It's good enough when people are safe. Where there is life, there is hope."
"In the face of the emergency, local Party committees and governments made quick decisions to evacuate local residents, giving priority to people's lives. You made great efforts during the evacuation." Wen told soldiers and policemen at the breached river dikes.
The Fuhe River in Fuzhou City breached its banks for a second time early Wednesday, two days after a dike on another section of the river burst, forcing the evacuation of 100,000 people, according to the provincial Flood Control and Drought Relief Headquarters.
"We mustn't relax ourselves as a new round of rains have come. I believe as long as soldiers and civilians unite together and make joint efforts, we will win this fight against floods eventually," Wen said.
Wen also visited a local middle school and a university where residents were temporarily resettled.
"It's hot in the summer, and you must have difficulties living together in here. I hope you can help and take care of each other. After this disaster, you will become stronger and you will have a new and better homeland," Wen told the flood victims who were temporarily living in a gymnasium.
During a meeting on Thursday night, Wen told local officials to send more relief funds and materials to the disaster-hit regions in order to ensure local residents' basic living needs are met as being the most urgent task for now.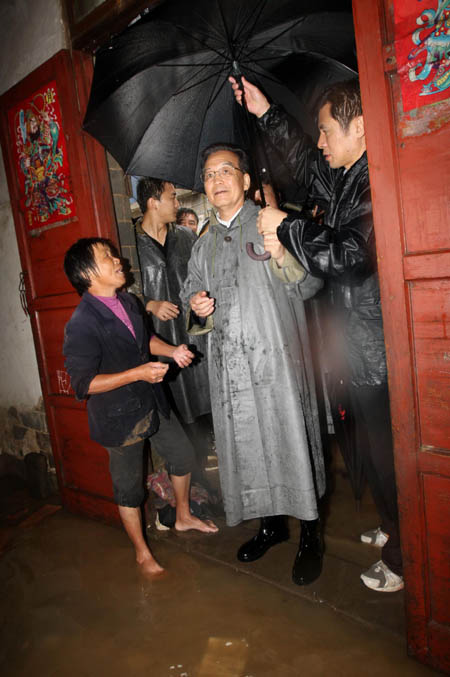 Chinese Premier Wen Jiabao (center) visits a villager's home in Luozhen town of Fuzhou City, East China's Jiangxi Province, June 24, 2010. [Photo/Xinhua]