Beijing - China's young generation of migrant workers expect higher incomes and more rights as they struggle to gain a foothold in urban society, the nation's top trade union body said in a report on Monday.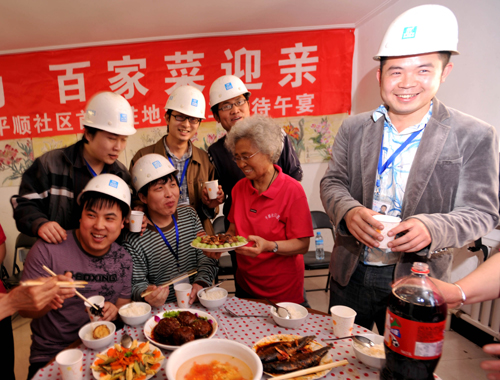 An elderly woman living in Pingshun community in Shenyang, Liaoning province, prepares a meal for migrant construction workers on May 25. Zhou Xiaofan / for China Daily
The report by the All-China Federation of Trade Unions said the marginalization of young migrant workers in both cities and rural areas poses a severe challenge to the government, as well as to its efforts to maintain stability.
"The young migrant workers are mostly brought up in cities and are not familiar with agricultural skills. Compared to their parents, they have higher expectations of life, but less endurance," the report said.
Related readings:


 Migrant workers feel alienated in the city


 Free haircut for children of migrant workers


 Migrant workers are losing touch with children at home

 Migrant worker family lives with hope, optimism

Due to limited education and technical skills, they are rarely able to find stable jobs with high salaries and end up on the margins in both cities and the countryside, according to the report.
The young migrant workers, also called the "new generation of migrant workers", are those born after the 1980s and work in cities, but are registered as farmers back in their hometowns in rural areas.
A string of apparent suicides at Foxconn's factory in South China and a spate of strikes across the country over the past few months have put young migrant workers in the spotlight.
The report, conducted in 10 cities from March to May, shows that the rising demands of a new generation of migrant workers weigh heavily on policy-makers.
"The accumulation of these demands and problems has begun to have negative effects on our country's political and social stability and sustainable economic development," the report said.
These problems facing the new generation of migrant workers need to be resolved to avoid social unrest, it added.
China now has 150 million migrant workers and 61.6 percent of them are aged 16 to 30, the report said, citing government statistics.
According to the report, the average young migrant worker is 23 years old, and has finished middle school. Some 80 percent are unmarried.
It also found the young migrant workers are more willing to defend their rights than their older counterparts and to file complaints without fear of retaliation.
Lu Huilin, an associate professor of sociology at Peking University, said most migrant workers "have jobs but no lives", which means they can only feed themselves on their incomes, but are unable to satisfy their overall needs.
"While it is true the first generation of migrant workers endured tough living conditions, it is also natural that the younger generation will no longer put up with it," he said. "If the situation is not handled properly, more problems will be triggered in future."
The All-China Federation of Trade Unions called on central and local governments to allocate more funds for the housing and education of migrant workers and their children, as well as to help them settle down in cities where they will be entitled to social welfare and other benefits.