PINGDINGSHAN, Henan - Forty-six miners were killed on Monday morning in China's latest coal mine disaster after explosives stored in the shaft went off, emitting toxic gas.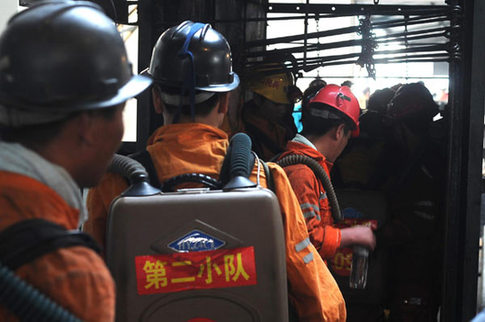 Firefighters work to rescue the trapped miners after explosives went off at the powder magazine of the Xingdong No 2 Mine in Weidong district of Pingdingshan city, Henan province, June 21, 2010. [Xinhua]
The blast hit the Xingdong No 2 coal mine at 1:40 am on Monday in Weidong district, Pingdingshan city of Central China's Henan province, according to local authorities. Some 75 miners were working underground when the blast occurred.
Related readings:


 3 die in iron mine cave-in in East China


 6 workers rescued from flooded coal mine in north China


 11 trapped in flooded mine in north China


 Dynamite blasts in Hunan coal mine; 17 killed
After the accident, President Hu Jintao and Premier Wen Jiabao directed rescue workers to "exhaust all means possible" to save the miners who were trapped. Among the trapped miners, 46 were later found dead and the other 28 emerged from the mine alive.
Five, however, were seriously injured and one is in critical condition, with major burns over most of his body, the municipal government of Pingdingshan said in a statement on Monday afternoon.
The rescue operation has ended and local authorities are holding the people who are believed to be responsible for the accident, the statement said, without detailing their identities. The coal mine was operating illegally as its mining license had expired early this month, the statement said.
Four local officials held responsible for the accident were removed from their government or Party positions on Monday afternoon, including Yun Jianjun, head of the district government and the highest-ranking official among the four, according to another statement by the city government.
Relatives of the miners gathered in front of the mine's gate on Monday morning, waiting for information about their loved ones, with some of them bursting into loud cries.
"I don't know anything about whether he is alive or dead," said Zhang Xiaohong from the nearby Luzhuang village, referring to her younger brother who had been working at the mine.
The Xingdong No 2 Mine was under technical upgrades to boost its annual output capacity from 60,000 tons to 90,000 tons, according to the State Administration of Work Safety.
The cause of the explosion has yet to be revealed, and an investigation is underway. Li Jianwei, vice mayor of Pingdingshan, denied that another accident had struck the same mine in the past two months.
Coal mine disasters are not rare in Pingdingshan as coal mining constitutes one of the city's pillar industries. In September last year, a methane gas explosion at a coal mine in the city left 76 miners dead.
The death toll from coal mine accidents in China increased by 16.3 percent to 592 in the first quarter this year.