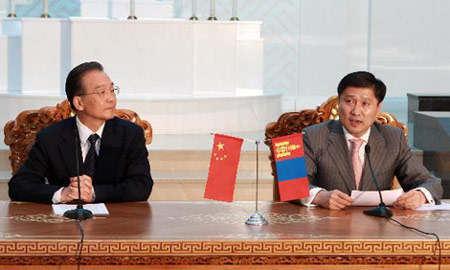 Chinese Premier Wen Jiabao (L) attends a welcoming ceremony held by his Mongolian counterpart Sukhbaataryn Batbold in Ulan Bator, Mongolia, June 1, 2010. [Xinhua] 
Ulan Bator -- Premier Wen Jiabao on Wednesday urged more Chinese investment in Mongolia while visiting its capital city, Ulan Bator.
"The focus is to push forward the cooperation in mineral resources exploration and infrastructure," he told an audience of Chinese and Mongolian business people at a seminar.
Related readings:


 China, Mongolia to boost co-op in energy, trade


 Border town bustling with business as Sino-Mongolia trade takes off


 Chinese premier arrives in Mongolia for visit


 Ambassador: Wen's visit to greatly boost China-Mongolia ties
"We wish to materialize several major cooperative projects as soon as possible and promote the Sino-Mongolian economic and trade relations in full dimensions," said Wen.
The premier lauded the economic ties between the two nations.
Bilateral trade hit $2.4 billion last year, 50 times higher than in 1991. By the end of April, nearly 5,000 Chinese firms had invested $1.04 billion in resources-rich Mongolia. Chinese investment jumped 240 percent last year, despite the global economic downturn.