SHANGHAI - An increasing number of older people, hoping to match good appearances with their active and younger lifestyles, are turning to plastic surgery.
"Though they are getting older, people still place a high value on their physical beauty," said Lu Hao, a doctor at the Shanghai-based Chinese People's Liberation Army No 455 Hospital. "Many plastic surgery clinics in the city have found that the number of older patients is continuously rising."
During the recent May Day holiday, the number of patients over 50 who had plastic surgery was nearly four times that of a year ago, the hospital's plastic surgery department said.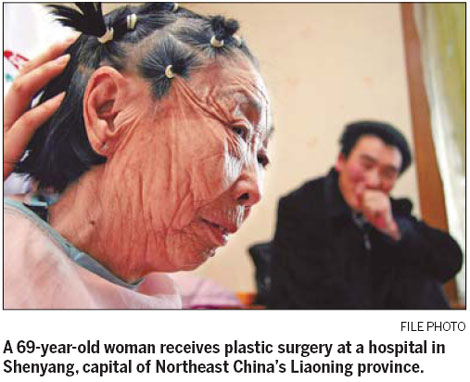 "Most of the patients are women. But there are also a substantial number of men. The oldest patient we had was about 65," he said.
Lu said his department has about 60 patients every day and more than 10 percent are over 50 years old.
"Many older patients want to eliminate their age spots by laser. It doesn't require a lot of money or time," said Wang Shoujun, a laser procedure doctor from the hospital, noting that the decreasing costs also encourage older patients to come.
In the past, facial laser procedures cost more than 2,000 yuan ($295).
But now, patients can have such procedures for less than 1,000 yuan, according to Wang.
Eyelifts, injections and wrinkle-filling are also very popular among older people, Wang said.
"I just want to look younger by a few years, perhaps that's a way to improve my self-confidence," said a 58-year-old women surnamed Xu, who planned to have a facelift to smooth up lines.
"My elder sister did it last year. She looks a lot better now. Full of energy, feeling good maybe that's what every older person wants. No need to look 18, but to look great for your age," she said.
The Shanghai No 10 People's Hospital's plastic surgery department reported a 20-percent increase in older patients during the past two years.
"Nowadays, people are living longer and better. But the effects of aging on their appearance affect their mood and confidence in keeping an active and healthy lifestyle," said Ye Xinhai, whose patient load has increased 20 percent in the past two years.
"Besides, many older women want to be as young and beautiful as those high profile older actresses in TV drama programs or South Korean TV soaps. They want the same effects at home, and are happy to spend money on their appearance," Ye said.
China Daily