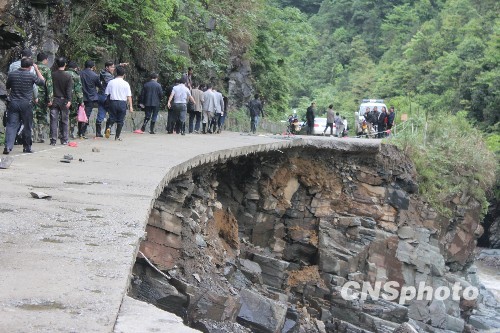 Emergency crews work on a road damaged by floods in Loudi city, central China's Hunan province on May 8, 2010. [Photo/CNS Photo]
The rainy season has arrived across parts of central and south China, bringing huge losses.
Since May 5, heavy rains, landslides and flood debris have killed 86 people, while 16 are missing and 7.865 million people are affected by Wednesday
The disastrous weather has caused direct economic losses of 5.88 billion yuan, ruined 137,000 houses and caused over 39,000 building to collapse. Chongqing, Hunan, Guangdong, and Jiangxi provinces suffered the most.
In Hunan province, 13 people have been killed or are missing after heavy continuous rain. 28,600 residents have been evacuated, 6,114 buildings have been damaged, and direct economic losses are estimated at 1,363 million yuan.