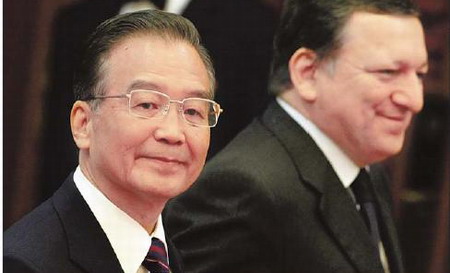 Premier Wen Jiabao and visiting European Commission President Jose Manuel Barroso meet the press at the Great Hall of the People in Beijing on Thursday. [XU JINGXING / CHINA DAILY]
China-EU move positive sign for Cancun summit
BEIJING - A ministerial-level dialogue mechanism on climate change has been set up between China and the European Union, a move analysts believe will help the United Nations climate summit to be held in Mexico in December bear fruit.
Related readings:


 China, EU set up dialogue on climate change

 City dwellers cite climate as top concern: poll


 Reacting to Climate Change: from Manila


 China's efforts to tackle climate change in last decade
The two sides will hold talks regularly to strengthen collaboration and deepen understanding, according to a joint statement issued after China's climate change envoy Xie Zhenhua held talks with Connie Hedegaard, the EU commissioner for climate action, on Thursday.
The two sides will also set up a hotline, the statement said.
"China and the EU appreciate each other's efforts to combat climate change, and would like to restate support for the Copenhagen Accord and promote the political consensus reached in the accord," it said.
The two sides pledge to work closely under the auspices of the UN Framework Convention on Climate Change and the Kyoto Protocol to achieve positive results and meaningful progress at the climate summit in Cancun, Mexico, it said.
China already has a similar mechanism in place for dialogue with the United States.
"The latest mechanism signals that China and the EU, both major participants at the Cancun summit, are making joint moves on addressing climate change," said Zhang Haibin, a professor on climate change at Peking University.
Zhang said the dialogue will help China and the EU get rid of "misperceptions" after last year's Copenhagen summit.
Hedegaard is accompanying European Commission President Jose Manuel Barroso, who is in China to attend the opening ceremony of the World Expo in Shanghai on Friday.
Before leaving for Shanghai, Barroso is scheduled to inaugurate the Europe-China Clean Energy Center at Tsinghua University in the morning, and address students on issues including climate change.
"I think we (China and the EU) have close contacts, but we are at the beginning of a real partnership," Gunther Oettinger, the EU commissioner for energy, said on Thursday when commenting on China-EU cooperation to fight global warming.
"We have much to do, in research, science, in cooperation for new generations of energy power stations. Maybe in combining targets, interests, intentions more and more," he told China Daily.
But Zhang Jianyu, China program manager of the US Environmental Defense Fund, played down the significance of the dialogue with the EU.
"What we need is not dialogue, but action.
"There are already a lot of dialogue opportunities among state leaders and environment ministers," Zhang said.
In mid April, Xie, vice-minister of the National Development and Reform Commission, met his counterparts from European countries in Washington at the Major Economies' Meeting and Climate Change Initiative led by the US.
Xie also held several rounds of direct talks with, or made telephone calls to, his US counterpart Todd Stern last year.
"To some degree, whether the US Congress passes a bill on clean energy and climate change will determine the outcome of the Cancun summit," Zhang added.